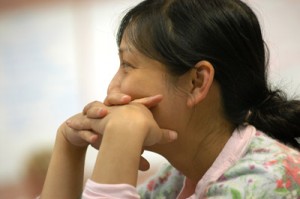 Ready to get started on the path to your master's degree? Admissions are handled on a "rolling" basis, with students admitted at the beginning of the fall, spring, and summer terms. There are many ways to begin:
START THE PROCESS
Fill out the inquiry form
Call our office today at 612-330-1101 and schedule a one-on-one session with an advisor
Attend an upcoming Information Session
Visit campus and take a tour
E-mail us at malinfo@augsburg.edu
APPLY NOW
1. Apply Online (secure web site)
Please note that we are changing our system software for graduate applications.  Our transition will affect applications in our system that are not submitted by Feb. 24th, as they will be deleted.  If you are thinking of starting an application, please submit your application by February 22 at 5:00PM CST to avoid losing your work. Your personal summary, recommendations, resume and any other supplemental items can be uploaded to your application until February 22 at 5:00PM CST , or emailed to gradinfo@augsburg.edu at any time, before or after your application is submitted. 
Our new system should be up and running by Feb. 24, 2015 and you should be able to start, save and submit application materials as normal after this date.

We apologize for any inconvenience—this database transition will allow us to better serve you through the admission and decision process. If you have any questions, please don't hesitate to contact our office via phone or email.
2. Download Admission Materials in PDF Format
Master of Arts in Leadership Application Instructions
Master of Arts in Leadership Admissions application
Master of Arts in Leadership Recommendation Checklist
Master of Arts in Leadership Transcript Request Form
Application Deadlines
Late Summer (Hybrid Format)
Fall Term (Classic Classroom Face-to-Face Format)
Priority Deadline is July 15
Final Deadline is August 15
Spring Term
Priority Deadline is November 15
Final Deadline is December 15
Summer Term
Priority Deadline is March 15
Final Deadline is April 15
Application Checklist
A complete application should include the following:
Completed application form.
$35.00 non-refundable application fee mailed to Graduate Admissions Office.  Fee is waived if the online application is used.
A 1-3 page personal statement relating the applicant's educational background, work history and career  goals to leadership aspirations.
Recommendation letter and checklist from an immediate supervisor, assessing leadership potential
Recommendation letter and checklist from a work colleague (at the same level) describing the applicant's work style and leadership potential
Official transcripts from all undergraduate institutions attended, listing all courses taken and any degree(s) conferred. Have official academic transcripts from all previously attended post secondary institutions on their original transcripts (including colleges, universities, and vocational/technical schools and PSEO credits) sent directly to Augsburg.  To request a transcript, call or email the registrar's office at your prior institution. Transcripts from any previous graduate level work are also needed.
You may request your official transcripts from your past institutes of higher learning and send them to Augsburg College by mail or electronic transfer.By mail:
Graduate Admissions Office, CB 65 Augsburg College 2211 Riverside Ave. Minneapolis, MN 55454

By electronic transfer:

Augsburg College uses Scrip-Safe, Docufide/Parchment as official transfer services.  If you wish to use a different transfer service, please call 612-330-1101 to check on the feasibility of other options.  Please send documents to admissiondocs@augsburg.edu

After you request an electronic transcript, please send an email to gradinfo@augsburg.edu indicating that a transcript has been ordered.  Include your name, desired degree program, electronic transfer service used and the name of the sending institution.
Applicants may be asked to participate in an interview with graduate program faculty and/or staff members.