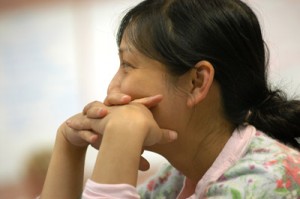 Ready to get started on the path to your master's degree? Admissions are handled on a "rolling" basis, with students admitted at the beginning of the fall, spring, and summer terms. There are many ways to begin:
START THE PROCESS
Fill out the inquiry form
Call our office today at 612-330-1101 and schedule a one-on-one session with an advisor
Attend an upcoming Information Session
Visit campus and take a tour
E-mail us at malinfo@augsburg.edu
APPLY NOW
2. Master of Arts in Leadership Application Instructions
Application Deadlines
Late Summer (Hybrid Format)
Fall Term (Classic Classroom Face-to-Face Format)
Priority Deadline is July 15
Deadline is August 15
Spring Term
Priority Deadline is November 15
Final Deadline is December 15
Summer Term
Priority Deadline is March 15
Final Deadline is May 1
Application Checklist
A complete application should include the following:
Completed application form
A 1-3 page personal statement in response to the prompts that can be found in the application.
Resume
Two letters of recommendation are preferred.  If you decide to provide name(s), please choose two people, faculty or colleagues, to write letters of recommendation on your behalf who can comment on outstanding qualities they have seen in you, your academic/professional potential, leadership potential, and your ability to handle graduate level work.
Applicants must submit an official transcript(s) from the regionally-accredited institution granting the Bachelor's degree and the most recently attended institution, if not the same. Military veterans are required to submit all official transcripts from previously attended institutions to qualify for military benefits. In the case where prerequisite requirements exist or transfer credits or waivers are sought, official transcripts are required from institutions at which the prerequisites or equivalents were completed. The Program Director may ask for additional transcripts if determined to be necessary. To request a transcript, call or email the registrar's office at your prior institution.
You may request your official transcript from your past institution of higher learning and send it to Augsburg University by mail or electronic transfer.
By mail: Graduate Admissions Office, CB 65, Augsburg University, 2211 Riverside Ave., Minneapolis, MN 55454

By electronic transfer:

Augsburg University uses Scrip-Safe, Docufide/Parchment/Clearing House as official transfer services.  If you wish to use a different transfer service, please call 612-330-1101 to check on the feasibility of other options.  Please send documents to admissiondocs@augsburg.edu

After you request an electronic transcript, please send an email to gradinfo@augsburg.edu indicating that a transcript has been ordered.  Include your name, desired degree program, electronic transfer service used and the name of the sending institution.
Applicants may be asked to participate in an interview with graduate program faculty and/or staff members.