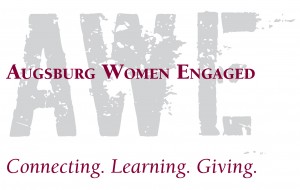 The recent AWE-inspired event Spirituality: Going Deeper. Insights from Christianity and Buddhism was exactly that – inspiring! St. Thomas Law Professor Susan Stabile shared her spiritual journey from her Catholic childhood in Brooklyn, New York to taking a vow as a Buddhist nun and back to where she is now, a practicing Catholic.
Augsburg Religion Professor Marty Stortz hosted the evening in a room filled with Augsburg alumnae and friends who were eager to learn and fascinated by Susan's story.
After telling her story, Susan led participants in a Buddhist meditation exercise that she has adapted for Christian meditation, designed to send healing intentions to friends and family members who are suffering. This meditation is found in her book, Growing in Love and Wisdom: Tibetan Buddhist Sources for Christian Meditation, available on amazon.com.
Lee Furman '61 enjoyed the evening and said about Susan Stabile, "That woman is dynamite. I hope that she will also work with us for a retreat and of course we will all pay for that. Susan Stabile was just out of this world. I am enjoying her book. So it was just a perfect evening. Thank you."
The AWE advisory council will explore options on recommendations for a half-day retreat with Marty Stortz and Susan Stabile within the next few months, based on a recommendation from the group.
AWE is a catalyst for tapping the potential for women to connect, learn, and give. We believe all women have knowledge, experience, and resources to share. Therefore, alumnae are invited to make meaningful connections with and for Augsburg's AWEsome women by participating with an AWE Action Team. We welcome participation in whatever way best suits your interests, circumstances, and availability.  If you would like more information please contact Sara Schlipp-Riedel at 612-330-1178 or schlipp@augsburg.edu.