The Augsburg community is excited to commence its 145th academic year this week.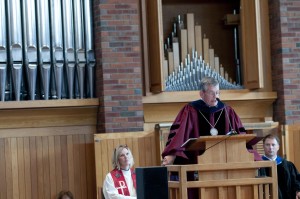 This year's incoming first-year undergraduate class is one of the largest in the College's history. Members of the class of 2017 moved in over the weekend and are full of talent and promise. They join us from 24 different states and 10 different countries from around the globe.
Stephanie, is a Twin Cities native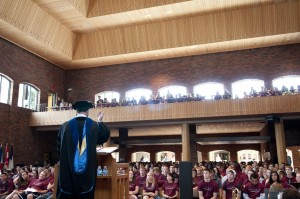 whose high school teacher—an Augsburg alum—encouraged her to apply to the College. Stephanie is planning to major in Special Education and is the first member of her family to attend college. She will navigate the college experience with assistance from AVID, a program dedicated to increasing student learning, completions, and success in and beyond college. Augsburg was one of the first colleges in the U.S. to pilot AVID for Higher Education and it remains the only four-year private liberal arts college in the Upper Midwest with AVID.
Also joining us this fall is Samuel, a Regents Scholarship recipient who plans to play on the Auggie football team. Samuel hails from Northern Minnesota and will be busy in our science classrooms and labs as a pre-med student who will add additional rigor to his degree program by participating in the College's Honors Program.
Hannah comes to us from rural Wisconsin as one of 11 recipients of the President's Scholarship, our highest merit-based award. Hannah has a passion for musical and theatrical performance and a record of exceptional academic achievement. At Augsburg, Hannah will hone her talents through our fine arts classes and co-curricular activities. She is the fifth of her family's five children to attend Augsburg. She is one of 40 other legacy students joining the Augsburg family this year.