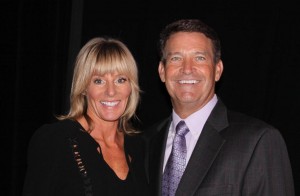 Two key supporters of the addiction recovery community will be recognized for their leadership and philanthropy to Augsburg College's StepUP Program.  Mike and Pam Sime will receive the Toby Piper LaBelle Award at the Augsburg College StepUP Program Gala on October 11.
"Mike and Pam understand that turning kids away from StepUP could be fatal," said Toby Piper LaBelle '96, chair of the StepUP board and a member of the Augsburg College Board of Regents. "Their personal commitment to ensuring this does not happen is beyond generous. I couldn't be more thrilled that they are receiving this award."
Mike Sime is a leader in the recovery community. In addition to serving as a member of Augsburg's StepUP board, he has served as chairman of the Johnson Institute, and serves on the Hazelden Foundation Board of Trustees. He is president and co-owner of Rapid Packaging and Berg Bag, a Minneapolis-based national distribution company.
"We are grateful to be able to give back to the recovery community that saved my life, my son's, as well as many friends and family," Sime said. "We realize that so many students enroll in the StepUP Program at Augsburg College because it truly is a choice between life and death."
Pam Sime also is a notable supporter of the recovery community. She chaired the 2012 Minnesota Prayer Breakfast and the 2013 Hazelden Grand Opening Gala for the Center for Youth and Families in Plymouth. She is a certified fitness instructor. The Simes have three grown children and live in Wayzata.
The Toby Piper LaBelle Award is given to a person or family that consistently has supported young people in recovery. It is named in honor of the first recipient, Toby Piper LaBelle, for his insight and ability to advocate for the needs of recovering college students on a college campus. LaBelle was a lead champion for students in recovery while he was a student at Augsburg College. His advocacy supported founder and former director Don Warren in starting the StepUP Program.  The program, one of the first residential collegiate recovery programs in the nation, continues to be a nationally recognized model for student success.
The Gala will take place on October 11, at the Hyatt Regency Minneapolis. For more information and tickets, visit http://web.augsburg.edu/stepup/gala2013/.
The Augsburg College StepUP Program serves men and women who are in recovery from addiction to alcohol and other drugs and are pursuing a college education.  StepUP provides licensed personal counselors, a sober living community, and financial support to students in need. During 2012-13, the average abstinence rate from drugs and alcohol by members of the program was 93 percent. Students who graduated from the program attained an average GPA of 3.53 on a 4.0 scale.
Augsburg College is set in a vibrant Minneapolis neighborhood in the heart of the Twin Cities and offers more than 50 undergraduate majors and nine graduate degrees to more than 4,000 students of diverse backgrounds. The trademark of an Augsburg education is its emphasis on direct, personal experience. Guided by the faith and values of the Lutheran church, Augsburg educates students to be informed citizens, thoughtful stewards, critical thinkers, and responsible leaders.