On Friday, September 27,  the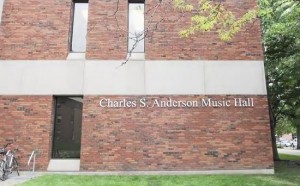 Augsburg community gathered to dedicate the Charles S. Anderson Music Hall in honor of Augsburg's 8th president, Charles Anderson, who served as president for 17 years, from 1980 to 1997.
President Pribbenow welcomed the guests and stated that "the legacy of Charles Anderson is very much the foundation for the College's work today and in the future. We are honored to recognize him by naming the Charles S. Anderson Music Hall."
College Pastor Sonja Hagander and Associate Pastor Justin Lind-Ayres led family, colleagues, alumni and friends in the blessing of the building.  Members of the Augsburg choir and band joined the celebration.
Roz Nordaune '77, Regent Emerita, and Jeff Swenson '79, Athletic Director, paid tribute to Chuck.  Jeff described Chuck as a "student-first decision maker and a competitor, who was a confident and compassionate leader."
Roz, who knew Chuck both as a student and a Regent, said, "His qualities of accessibility, inclusion of Augsburg's constituencies, always open to discussion and debate and a wonderful sense of humor were always evident to me as my involvement with my alma mater evolved over many years."
Kathy Tunheim, Regent Emerita Chair during the tenure of President Anderson, sent a letter and shared, "Chuck was so proud of Augsburg.  He believed in the importance of the College's work–for its students and for the world they will serve.  He had such confidence in the people who were committed to Augsburg's future.  He was truly a willing servant leader."
Kristin Anderson, Augsburg Art Professor and daughter of Charles Anderson,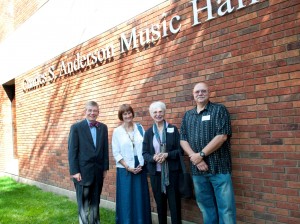 remarked that the naming of the Music Hall in honor of her father is especially fitting as music was important to him throughout his life. "He understood the many important roles this space could play – not just for music majors, but for people like him, who were deeply committed to music but who pursued other gifts and professions," said Kristin.