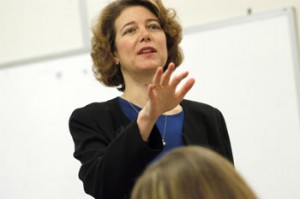 Dr. Annette Gerten, associate professor of Social Work, died this week from an aggressive cancer. Annette was a passionate and valued member of the Social Work faculty and the Augsburg community. Her time with us and our students–cut short too soon–was a blessing that we will long remember and greatly miss.
Below are some words from the Social Work Department faculty that speak to the work that Annette did at Augsburg and the impact she made on her students, her department, and the wider community.
"Courage. Some have suggested that the fullest meaning of this idea is to act with a whole heart, being brave is pursuing life with your whole-heart. Annette lived and she died whole-heartedly.
Professor Annette Gerten began her professional career in social work following her undergraduate years at the College of St. Catherine. She completed her MSW in 1984 at the University of Michigan. She returned to Minnesota in 1986 to work at Wilder Child Guidance Center. She went on to work as a family counselor and school social worker. Annette completed her Ph.D. in Social Work in 1996. A year later she began her career at Augsburg College, beginning as a full-time instructor.
Professor Gerten was a valued and innovative teacher, a tireless collaborator, and an incurable knitter. We can attest that Annette dedicated her whole heart to her students and to her colleagues. When she first entered the hospital in mid-December, she was attended by the hospital social worker, one of Augsburg's MSW graduates. The social worker recalled that, 16 years earlier, while she was on the verge of dropping out of the MSW program, Annette spent time with her encouraging her to not give up, but to complete her degree. Now, many years later, she is still grateful to Annette for having had faith in her.
Annette was a valued colleague within the wider College, having served as a Fellow with the Center for Teaching and Learning and served on the Committee for Tenure and Promotion. Annette was also the assessment director for the Social Work program. Dedicated to social work field education, Annette coordinated field placements for BSW students. Annette's publications included guidelines for working with students with conduct disorders, family friendly policies for mothers in the academy, and lessons learned from collaborating with the neighborhood Somali community. Annette did all of this while teaching students from their first year on campus, to their final year in graduate school.
But to focus on her professional career would be only a segment of Annette's full story. She loved her family. She was devoted to her three children, her husband Jim and supported all their social, academic and sport activities. Annette played volleyball with her husband's college friends, watched most of her three children's soccer and basketball games. And just this past August, Annette proudly completed her first triathlon.
'As she did with yarn so beautifully and creatively, she wove us all together more tightly centered on the important work of serving others…What a good mother, social worker, educator, and human being! May we carry on in her hopes and dreams as her spirit lives in our hearts….' (Anthony Bibus, 2013)."
Annette's family has scheduled a Mass of Christian Burial memorial service on Friday, January 10, at 10 a.m. at the Church of St. Patrick, 3535 72ndSt. E., Inver Grove Heights. Visitation will be Thursday, January 9, from 3 to 8 p.m., also at the Church of St. Patrick.
The Augsburg community will gather this afternoon from 2 to 2:30 p.m. in Hoversten Chapel for a community prayer service.
We hold Annette's husband, Jim, their three children, her family, and all who knew Annette in our thoughts and prayers.