By spring 2015, Katie Lindenfelser '02 hopes to break ground for Children's Lighthouse Minnesota (CLM), the first children's hospice and respite home in the Midwest, and only the fourth children's hospice facility in a nation that has over 4,700 such facilities for adults.
Having chosen Augsburg for its Music Therapy program and the option to study abroad, Lindenfelser found an "incredible mentor" in Professor Roberta Kagin, who encouraged her interest in pediatric music therapy, and suggested she spend a semester in Melbourne, Australia. She did so, and fell in love with Melbourne. She also discovered that more of Australia's music therapists worked in pediatric care than was true in Minnesota. Later, in her work as a music therapist in a Minnesota children's hospital, she found herself repeatedly asked by parents about other places outside the hospital where they could take their child when exhausted and needing more support—a place to feel like a kid, to get a nice bath and a good night's rest, and a place to meet other families in similar situations. Was there such a place in the region—a place for respite and end-of-life care, a sacred place for family when a child is dying? Basically, no.
She returned to the University of Melbourne to complete a Master's in music therapy. While there, she also completed a study investigating bereaved parents' experiences of music therapy while their child was dying, and connected with a pediatric palliative and hospice facility, Very Special Kids (VSK), to which she would return in 2008 to work. It became increasingly clear to her that VSK was the kind of facility thousands of U.S. families had been seeking.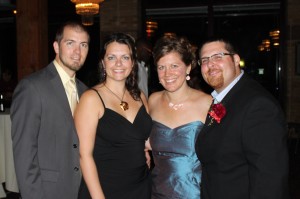 When she returned to the U.S., her husband, Matt Christensen '03, asked, "Why would you keep going to Australia to work at a children's hospice? Why not just work at one here in Minnesota?" When she told him there was none, he said, "Let's build one"—and the dream began to unfold. They, along with Matt Gregerson '02 and his wife Nadine, did research on what, if anything, had already been done, and what would be required to build and sustain such a facility. They forged a relationship with Harmon Killebrew's widow Nita, to join forces on an issue that had been dear to the heart of her late husband and baseball legend—a man who had been a grateful recipient of hospice care, and who felt deeply about dignity at the end of life. An advisory group for a CLM Fund in his honor—comprised of families with names such as Oliva, Molitor, Morris, Carew, Blyleven, Hays, Smith, St. Peter, Doepner and LeDoux—began helping to raise awareness and the $10 million needed to both erect a building (where families can stay without charge), and to fund the first two years of operations.
On May 17 (the third anniversary of Killebrew's death), the Minnesota Twins will provide an opportunity to contribute, as they did last spring. By simply calling Luis at the Twins office (612-659-3575) to purchase tickets for the day's game, you can mention CLM and $10 per ticket will benefit CLM.
Living in the Twin Cities with husband Matt and their son Daniel (and awaiting child #2), Lindenfelser welcomes wholeheartedly your leads on businesses, organizations, or individuals who may have interest in supporting this mission. Reach her at Katie@ChildrensLighthouseMN.org or at 763-587-1152.