A message from Alumni Board Member Jill Watson '10:
At the spring Alumni Board meeting in 2013, Janeece Oatman '05, Tour de Cure Twin Cities Ride Director, was our guest speaker.  At this meeting, I learned about the Tour de Cure, a fundraising event held in 44 states nationwide to benefit the American Diabetes Association.  Immediately, I knew I wanted to ride.  My mom has type II diabetes, a childhood friend has type I diabetes, and oddly enough, my small department of seven people has three type I diabetics, and this is probably just a small group of people in my life living with diabetes that I know about.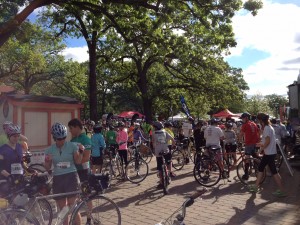 In 2013, I rode the 27-mile route, though I was hesitant at first because it was by far the farthest I've ever gone on a bike, but it was wonderful!  I met some amazing people along the way, and two of the ladies I met while chatting before the ride remembered me (and my name!) when I saw them at another bike ride in the fall!  The scenery was gorgeous throughout Minneapolis and I found trails I never knew existed.  The riders with diabetes stand out, on purpose, in their red jerseys, and everyone there is cheering for them, and they know it as you ride by and yell "go red rider!"  The atmosphere was electric as everyone there was there for a cause.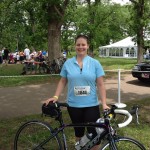 I ride in honor of my family, friends, and coworkers; I ride to help put an end to diabetes; and I ride to support fellow Auggie Janeece and her amazing work with the American Diabetes Association. Out of all the events I participated in throughout 2013, Tour de Cure was by far my favorite and I can't wait for the 2014 ride when I plan to tackle the 43-mile route!  I hope you'll consider joining Team Auggie Accelerators where you'll see the sights of Minneapolis and St. Paul, while supporting all those with diabetes.
Auggie students, alumni, staff, faculty, friends, and family are all welcome on team Auggie Accelerators!
To join our team, donate to the cause, or find more information, please see our team page at http://goo.gl/e1Ik7L.
Jill Watson '10 MBA