His Holiness the 14th Dalai Lama and keynote speaker, Sister Helen Prejean, a strong advocate of eliminating capital punishment, were the featured presenters the first day of the 26thNobel Peace Prize Forum, "Crossing Boundaries to Create Common Ground", hosted by Augsburg College, the University of Minnesota Humphrey School of Public Policy, and the University of Minnesota School of Public Health.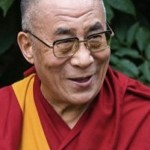 A week prior to March 1st the event had already sold out, at 3400 tickets. Upon arrival at 7:00am, the
atrium of the Minneapolis Convention center was packed with streams of people waiting in line to hear 
the Dalai Lama. Participants arrived from all over the world, experienced the only event that celebrates 
Nobel Peace Prize Laureates and inspires peacemaking. In addition to many sponsorships that made this 
event possible, Google + is also sponsoring the event and live streaming all the workshops and speakers 
online. To connect digitally the Forum can be found on Google +, Facebook, and Twitter. Audience 
engagement whether near or far is what makes the Forum successful and meaningful for all involved. 
Thank you for your support!
There are still tickets available for Law & Business Day, Health & Science Day, and Global Day. 
Please consider joining us for the following Forum days, March 7, 8, & 9th 
peace.augsburg.edu
.