St. John's Lutheran Church in south Minneapolis is connected to Augsburg's Music Program in a very special way. Each year a music major and student of color is chosen to receive the John Norris Scholarship Award, which honors the church's beloved sexton.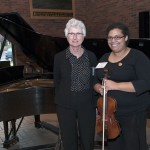 The new John Norris Award winner, Mandy Isaacson '15, a viola player from Bloomington, met church representative, Joyce Larson, a couple of weeks ago at Augsburg's annual Chamber Music Recital and High Tea, where she learned the story of this very special man. This event brings scholarship donors and recipients together with the community to recognize scholarship winners for more than 45 endowed and annual scholarship funds given to music students annually.
Mr. John Norris came to St. John's sometime in the mid 1930's when the nation was in a major economic depression. He needed a good solid job because he had a family to support. Moreover, he was concerned about the lifestyle and long and late hours required by his job playing drums with a local band. When he came to the congregation there was some controversy about him being a black man; this upset come people. However he made an impact in this all-white congregation because of his friendship  and love; that special Christ-centered quality.
John spent almost fifty years of his career at St. John's and was a friend of all there. In fact, many thought the church was named for him! He knew all the children and followed their process of growing up. As Sexton, he spent his working days, keeping the church building clean, making minor equipment and facility repairs, mowing the lawn in the summer and shoveling the walks in the winter. "He helped raise our kids, plan our events at Church, understand the needs of the church, keep track of the Minnesota Twins, and bury our dead." He opened and closed the church for many special services, weddings, baptisms an funerals. However he is honored by this scholarship not so much for what he did, but how he did it.
He is honored for his achievement of a life of friendliness, honesty and love. "John Norris was not a pastor, but he certainly ministered to all. John was not a preacher, but, but he delivered a solid message throughout his life every day. John was not great and accomplished musician, but might have been with some help. John was never a student, but he would have liked to have been. John Norris was very special man and made this world a better place to live. St. John's Lutheran Church is grateful for his life and for his service."
-The John Norris Scholarship Award was established in 1986 by money from friends of John Norris to honor his life and perpetuate is exceptional loving spirit. The fund is the result of many contributions given in genuine love by people who felt a need to respond to the life of a special person. St. John's Lutheran Church is on Nicollet Avenue at 49th street in Minneapolis.