As a 15-year-old, and with only self-training, Dr. Merton Strommen '42 was already directing the Lutheran church choir in Lamberton, Minn., where his father was serving as pastor. Before long, he also organized a 10-member male chorus, which, only a year later, would "serenade" the Augsburg College Choir with Negro Spirituals at a pre-concert luncheon. The Choir's visit to the church—an exciting event for such a small community—fanned the flames of Strommen's desire to pursue a career in music and one day direct a college choir. He eventually followed this dream at both Augsburg and the University of Minnesota.
Then life took a turn. He was personally confronted one day by a Presence he could only interpret as the Holy Spirit, and the "conversation" led to a change in life purpose. Further, he was unexpectedly rejected by the army for military service due to previous injuries. These factors, among others, pressed him to re-evaluate his life plan. He surprised even himself by enrolling at Augsburg Seminary, then an institution of the Lutheran Free Church (a predecessor body of the ELCA), where some of his closest friends were attending.
A year-and-a-half into his seminary training, he was summoned to the office of the church president, Dr. T. O. Burntvedt, and was urged to accept an appointment to serve as pastor of a congregation in Mora, Minn., starting on Christmas morning. Only part-way through seminary, and in the midst of preparing three choirs in a large congregation for Christmastime, he was stunned by this request. But it was obvious that "yes" was the answer Burntvedt required.
Strommen accepted the appointment, combining his work in Mora (on weekends) with completion of his seminary studies (during the week). In Mora, he was awed by his youth's response to the ministry of his congregation, and his experience there created a passion for developing youth ministry, both in his congregation and beyond. His five years in Mora were transformative, both for him and for the confirmands, many of whom became leaders in their own right.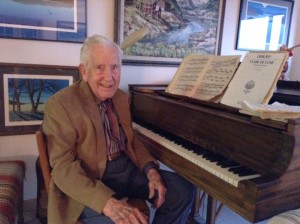 Youth ministry, a new idea then, would become the core of Strommen's life's work in ministry and research—as campus pastor at Augsburg, national youth director, and founder of the Youth and Family Institute at Augsburg. He also founded the renowned Search Institute, which, on the heels of the "turbulent 60s," surveyed 4,745 randomly selected U.S. Lutherans (aged 15–65) on their beliefs, values, and lifestyles. The resulting report, A Study of Generations, yielded a remarkable set of data—scientifically collected, nicely collated (thanks to the advent of computers), and clearly interpreted. The comprehensive study was highly applauded by clergy and hailed by Time magazine in a full-page article as "an assured classic."
Having led numerous efforts over the decades to help youth into "a conscious awareness of Jesus Christ as their Savior and Lord," Strommen has written extensively about youth ministry. This spring, he released his 17th book, The Amazing Hand of God: My Story of a Lifetime in Youth Ministry. The book provides a detailed look at how youth ministry can work well, as well as a rich description of his own journey in ministry and his professional research of attitudes regarding youth and faith issues. The book also includes several appendices with useful data on pastoral effectiveness and healthy youth ministries. The book is available through Lutheran University Press (www.lutheranUpress.org) and for Kindle at Amazon (www.amazon.com).
Strommen recalls his family's praying for Augsburg regularly when he was a child, and his family tree is filled with Auggies—father, brothers, wife, children, nieces, nephews, and grandchildren. He has seen Augsburg evolve over the years from many vantage points—as college student, seminary student, teacher, campus pastor, founder and director of the Centennial Singers, Regent, and Regent Emeritus—and he applauds what he sees and is "very delighted."
Now 95, Strommen lives with his wife of nearly 70 years, Irene (Huglen '44), in a Minneapolis apartment, adorned with Scandinavian artifacts, family pictures, plenty of easy chairs, and a grand piano. Every week, the Strommens welcome about thirty neighbors into their living room for a musicale and stories about the composer. Though his ministry may have precluded his formally pursuing a musical career, he has found a variety of ways to share his love of music.