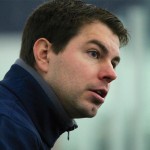 When Kasey Yoder '06 took an interest in hockey at a young age, nobody was very surprised—certainly not his step-father, who has been a high-school hockey coach for nearly 20 years. And certainly not his neighbors in Duluth (Minn.), located in the heart of "hockey country"—where high-school hockey is as good as it gets. He played hockey in high school and early in college, then transferred to Augsburg, where he explored and found the marketing program he wanted. While at Augsburg, he also started coaching youth hockey, and that's when it started—his passion for coaching.
One of the most exciting challenges in coaching high school hockey, says Yoder, is keeping the kids focused and "buying in," especially with everything else they have going on in their lives. He works to help them find balance, while still being committed to success at the arena. He is getting to know the families in the Orono (Minn.) community while developing relationships to further improve Orono hockey.
Taking his Orono High School team to the state hockey tournaments a few weeks ago was surely a highlight in his career, especially given the fact that 2013-14 is his first year at the school. The frosting on the cake—being selected Section 2A Coach of the Year.
When he isn't coaching, Yoder is tending to his 2nd Life Sticks hockey stick repair company in St. Paul. His experience as a coach, not to mention the rising cost of hockey sticks (now $250 per stick), convinced him that the repair technology he learned while a junior hockey coach on a tight budget was something that needed to be done on a larger scale. His entrepreneurial spirit kicked in, and the company has been operating for a year and a half. Yoder also runs Orono's 18-day summer hockey camp for kids aged 12-18, careful to follow his own advice to students and carve out some valuable cabin time as well.