The video Rachel (Selle) McLaughlin '01 saw at age 16, featuring women who would walk for two days to reach a doctor, left quite an impression on her. Because pregnancy and its complications continue to be a leading cause of death in the developing world, she chose to focus on obstetrics in her medical education because of the great potential to help such women.
Now, as a medical doctor at Kibuye Hope Hospital in Burundi, McLaughlin has abundant opportunities to provide medical care to many, while also serving as professor and clinical faculty at nearby Hope Africa University, a Christian university that is growing explosively. With only 300 doctors in a country of 10 million, the needs are great. Though Burundi is quite fertile, it is still one of the 10 poorest countries in the world and is not big enough to support 10 million people and their farms. Most Burundians are subsistence farmers, earning less than $1/day on average, and the unemployment rate is about 40%.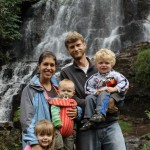 What led McLaughlin to this East African country? During her residency in Ann Arbor, Michigan, McLaughlin and her husband Eric had ended up in the same congregation as two other medical couples, the Cropseys and Faders—and they became close friends. All six felt called to medical missionary work, and in 2009, they traveled to Africa for a two-year fellowship at Tenwek Hospital in Kenya. They all sought a place to invest themselves long-term, a place that truly needed them and their medical education, and where there was African leadership and vision. They found it all in Burundi.
Their team ("the McCropders," an amalgamation of their names), consists of doctors in six different specialties. They started work at Kibuye Hope Hospital in January 2014, in a facility that had no running water, empty shelves in the pharmacy, and only a few nurses. Little at a time, progress is being made, and thanks to an organization called Friends of Hope Africa University, they now have running water. However, the rusted-out pipes in the hospital need to be fixed, and essential medications are scarce. Most days, McLaughlin and her two OB nurses perform 3–5 deliveries, and care for an average of 30–40 inpatients—plus newborns. The hospital usually runs at 100% capacity (80–90 beds), with some patients sleeping on the floor or sharing mattresses. They lack medications, staff, and tests, and many days their X-ray machine is broken. But McLaughlin is excited about their 30-year plan, which calls for an eventual expansion to 300 beds. She knows, however, that they must manage the growth responsibly, confident that the necessary infrastructure is in place.
During her student years at Augsburg, McLaughlin took several mission trips to Mexico, her first few of many such trips. Having been very active in Augsburg's campus ministry, she was especially pleased to return to campus in 2012 to speak at a Vocational chapel ("All Shook Up:  The Call to Change"), and to meet with students and staff. Just as she has been blessed, over the years, with many mentors, she now feels honored to advise and mentor students who are interested in medical or mission work.
Supported entirely by individuals and churches, McLaughlin and her team are seeking people with whom to partner in their hospital development and building projects. Several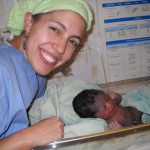 websites provide more information about the McCropders' work—blog and articles (www.mccropders.com), an article on Hunger Culture (http://mccropders.blogspot.gr/2014/02/hunger-culture.html), an article on Poverty (http://mccropders.blogspot.gr/2014/01/first-impressions-poverty.html), and Rachel's award-winning story about Burundi (http://thewell.intervarsity.org/in-focus/living-out-gods-pursuing-love-burundi).
So what drew the McLaughlins to Burundi? Friends have suggested "an amazing life experience," or "an adventure," or being "world travelers," or doing "meaningful work." But Rachel and her husband Eric agree, nothing captures the heart of it for them quite like this:  When we were far away, alienated and suffering, God pursued us with His love. And there is nothing other than this which will sustain our motivations. Laboring for the medically underserved people is a picture of the pursuing love of God for the world.