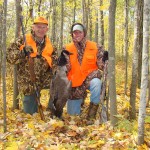 At a very young age, Nick Swanson '09, '12 MBA took a keen interest in hunting, fishing, and the outdoors in general—an interest he shared with the most influential person in his life, his grandfather, Richard Hoffmann. Even last year, the two sat in the woods together for a full day during Wisconsin deer hunting season, in hopes of harvesting a good-sized buck. They were not disappointed—plus, the "great buck event" was all captured on film!
Swanson, who spends his workweek as supervisor of business services at the Hastings (Minn.) Medical Clinic, Allina Health, has long been interested in traveling and a variety of outdoor adventures, and spends most evenings and weekends in that world. But, over the years, his difficulty in finding good, reputable resources to assist him in his planning has usually left him frustrated. Finally, he decided to create a website (www.claimyourtrophy.com) and produce/host a TV show to do just that. His hunting/fishing outfitter directory helps you find reliable guides and outfitters for that once-in-a-lifetime event—to enjoy hunting (deer, elk, moose, bear, turkey, caribou, birds, antelope, sheep) or fishing (bass, musky, northern pike, salmon, salt water, trout, walleye).
Particularly pleased about having captured "the great buck event" on film, Swanson looks forward to sharing the footage with millions this fall on his television show. Recently picked up by Fox Sports North and Fox Sports Wisconsin, "Claim Your Trophy" will run for 13 weeks, on Sundays and Thursdays at 8:00 a.m., beginning on August 24. It will also be found on YouTube (www.youtube.com/claimyourtrophy). "Having traveled across North America hunting and fishing with some close friends and capturing it all on film has been a dream come true," says Swanson, "not to mention having our adventures shown on TV—well, that's just icing on the cake!"
After majoring in Economics and earning an MBA at Augsburg (experiences which he says brought clarity to his vocation and helped shape him as a person), and doing additional study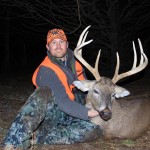 at University College Cork, Swanson pursued medical school, even enjoying a stint as a Mayo Clinic Scholar in 2011-12. However, with his other foot in the business world as a broker, consultant, and marketing manager, it soon became obvious that his vocation was in the business side of health care. He now says that wearing the "health care administrator hat" on weekdays overlaps nicely with his evenings and weekends, when he switches over to the "outdoors hat."
Swanson, who lives in Prescott, Wis., also finds time to serve on Augsburg's Alumni Board—involvement that he enjoys. "I'm not sure they'll ever get rid of me," he says.