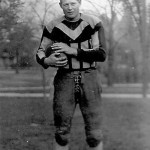 Legendary Augsburg College athlete, coach and instructor Edor Nelson '38, who led the Auggie football and baseball teams during a four-decade span, died last week. He was 100. President Pribbenow shared news of Nelson's passing with the campus community. We were sad to learn this news after having enjoyed such a wonderful celebration of his life on Aug. 18. The family released the details of the memorial service, and we wanted to share them with you.
The Athletics Department wrote a tribute to his life. We encourage you to share your memories of Edor Nelson on the Augsburg University Alumni Facebook page.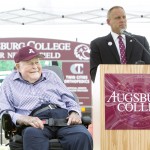 A memorial for Nelson will be held on Friday, Sept. 5, at Nokomis Heights Lutheran Church in south Minneapolis (5300 10th Ave. S., Minneapolis, MN 55417). Visitation will be from 12 to 1 p.m., with the memorial service following at 1 p.m.