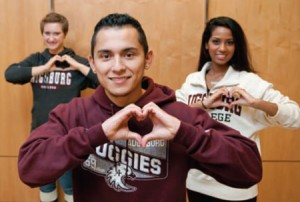 November 13 marks Give to the Max Day, a one-day online giving competition among Minnesota nonprofits. Last year, Augsburg came in first place among all Minnesota colleges and universities as a record- breaking 837 Auggies gave more than $313,000 in just 24 hours.
This year, Auggies are setting the bar even higher with a goal to raise $350,000 from 1,001 alumni, parents and friends.
With more than 35 Augsburg fundraising projects to choose from, from Biology to the Master of Arts in Leadership program, there are many ways to show your support for Augsburg!
Help Augsburg clinch a first-place spot once again:
Spread the word in social media with the hashtag #auggiesgive
Starting November 1, sign up online to make a gift to The Augsburg Fund to support every student, every day + another Auggie project like Women's Hockey, StepUP, Biology and more!
Email giving@augsburg.edu to sign up for a one-hour volunteer shift on Thursday, November 13.
Go Auggies!