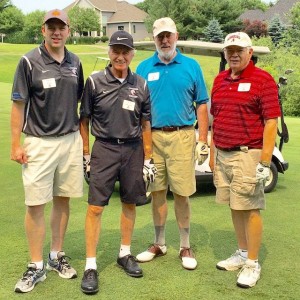 A record number of 160 golfers enjoyed a great day of golf on June 29 as Augsburg held its 52nd annual Clair Strommen/A-Club Golf Tournament at Oak Glen Golf Course in Stillwater.
Auggie alumni, staff, family, and friends gathered on the course and raised more than $42,000 to support student-athletes at Augsburg.
A notable absence this year was beloved Auggie Irene Steenson, who passed away in April at the age of 102. Steenson, who received an Augsburg Athletics Distinguished Service Award in 2002, served Augsburg College for more than 40 years, and continued to be an active Augsburg supporter long into her retirement. As the proprietor of the "On the Green with Irene" fundraiser, she sat at a tee box and handed out mint candies to golfers, greeting them with her charm and smile. Any golfer who landed their tee shot on the par three green won a sleeve of golf balls. The tournament continued to honor her this year with this same contest.
2015 sponsors of the event were Gladys and Robert Strommen. Tournament sponsors included Scott Anderson, Thom Berkowitz and Butch Raymond, Bruce Brekke, Rick Colvin, Rick Ekstrand, Twin Cities Orthopedics, and Anonymous. Prize sponsors were MECA Sportswear, Lee Olson, and Butch and Linnea Raymond. Hole sponsors included ADG Promotional Products, Advanced First Aid, Inc.–Norm Okerstrom, A'viands, Anixter, BR Direct Marketing–Bart Davidson, Continuum Construction, Inc., Oliver Dahl, Gamma Group, Jane Helmke, Tom Hofflander '57, Greg Holker, Hunt Electric Corporation, Minnesota Coaches, Dan Meyers, NRG Energy Center, Thomas Oslund and Associates, Dick Pearson, Robert Strommen, and Jane Thompson.