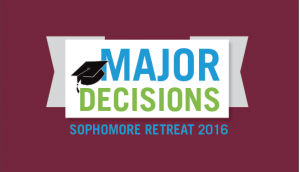 New this year, Augsburg will offer a one-day, on-campus
Sophomore
Retreat
to support second-year students on
Sunday, January 31, 2016, from 10 a.m. to 6 p.m.
The
retreat
is free of charge to students and breakfast and lunch will be provided. The
retreat
will involve a balance of content, assessments, and reflection time organized around three modules: meaning & purpose, gifts & passions, and community & connection. Students who are searching for a major, looking for support exploring career options, or seeking a deeper sense of connection at Augsburg will all benefit from this
retreat
.
Eligibility: Any student who self-identifies as a second-year student is invited to apply via the Strommen Center for Meaningful Work website. Space is limited to 40 students.
Apply: Students can apply to be part of the

retreat

online.
Staff and faculty can also nominate students by submitting names on the same site.
The
Sophomore
Retreat
is brought to you by the Strommen Center for Meaningful Work, Campus Ministry, Religion Department, Academic Advising, Sabo Center for Democracy and Citizenship, Christensen Center for Vocation, and Student Affairs.