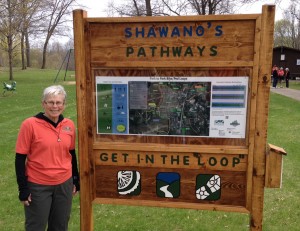 In her 37 year career as a coach and teacher at Shawano High School in eastern Wisconsin, Janis "Matty" Mathison '69 made physical education into all that it could be. Like her mentors at Augsburg, she took her role in her students' lives to heart. She knew she could give something back, and make life easier for someone else. She's promoted health with vigor, enthusiasm, and integration in daily life in the years since she has retired.
"You make your own bed," Mathison says, "and I really like the bed that I made."
She had always been active in community life, but retiring gave her the opportunity to become more involved. "I find when I do something it's pretty all-encompassing," she says, and her involvement has been widespread and made a difference not only on individuals, but also on her community in Shawano County, Wisconsin.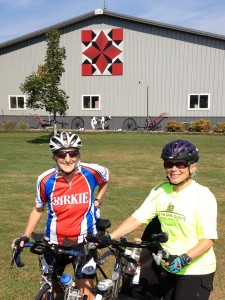 On Oct. 13, Mathison will be honored by the American Planning Association's Wisconsin Chapter as its Citizen of the Year for the work she's been doing in her whole life, particularly for her leadership since retiring. Her devotion to creating a healthy community comes organically, and her involvement has been widespread—from improving parks experiences, to promoting an anti-binge drinking campaign, planning safe routes to school, making school start times later, planning a regional bicycle ride, and helping to create a bicycle-and pedestrian-friendly master plan for the county. One of her nominators for the award, planner Ann Freiwald, calls Mathison a terrific instigator and motivator who leads local residents and works with planners to promote healthy living and active lifestyles in Shawano County.
Mathison serves as an Executive Board Member with Shawano Pathways, a community nonprofit tasked with planning for and facilitating the development, implementation and maintenance of a greenway and trails network within Shawano County. This year marks the third year of Bike the Barn Quilts, a supported bike tour of Shawano County that she led the effort to host. The ride attracts more than 200 participants.
Embracing All Abilities
When Mathison was growing up, she was not just a natural athlete, but a teacher as well. As the oldest of 9 children, Mathison remembers using a backyard playhouse as a play schoolhouse, and she was always the teacher.  Her parents instilled in her an ethic that may have been the best advice she'd ever received: "share, care, and play fair."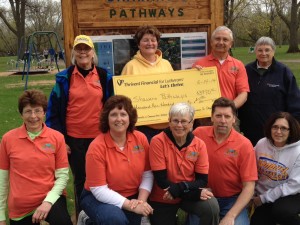 As a physical education teacher, gym with Mathison was as likely to involve spelunking, cross country skiing, rock climbing, and canoeing or kayaking. She designed curriculum in health and physical education to involve and challenge all students, regardless of ability or how much they liked competition or sports. Continue reading "Active '69 Alumna Honored with State Award" →