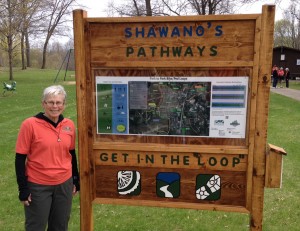 In her 37 year career as a coach and teacher at Shawano High School in eastern Wisconsin, Janis "Matty" Mathison '69 made physical education into all that it could be. Like her mentors at Augsburg, she took her role in her students' lives to heart. She knew she could give something back, and make life easier for someone else. She's promoted health with vigor, enthusiasm, and integration in daily life in the years since she has retired.
"You make your own bed," Mathison says, "and I really like the bed that I made."
She had always been active in community life, but retiring gave her the opportunity to become more involved. "I find when I do something it's pretty all-encompassing," she says, and her involvement has been widespread and made a difference not only on individuals, but also on her community in Shawano County, Wisconsin.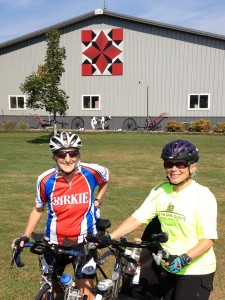 On Oct. 13, Mathison will be honored by the American Planning Association's Wisconsin Chapter as its Citizen of the Year for the work she's been doing in her whole life, particularly for her leadership since retiring. Her devotion to creating a healthy community comes organically, and her involvement has been widespread—from improving parks experiences, to promoting an anti-binge drinking campaign, planning safe routes to school, making school start times later, planning a regional bicycle ride, and helping to create a bicycle-and pedestrian-friendly master plan for the county. One of her nominators for the award, planner Ann Freiwald, calls Mathison a terrific instigator and motivator who leads local residents and works with planners to promote healthy living and active lifestyles in Shawano County.
Mathison serves as an Executive Board Member with Shawano Pathways, a community nonprofit tasked with planning for and facilitating the development, implementation and maintenance of a greenway and trails network within Shawano County. This year marks the third year of Bike the Barn Quilts, a supported bike tour of Shawano County that she led the effort to host. The ride attracts more than 200 participants.
Embracing All Abilities
When Mathison was growing up, she was not just a natural athlete, but a teacher as well. As the oldest of 9 children, Mathison remembers using a backyard playhouse as a play schoolhouse, and she was always the teacher.  Her parents instilled in her an ethic that may have been the best advice she'd ever received: "share, care, and play fair."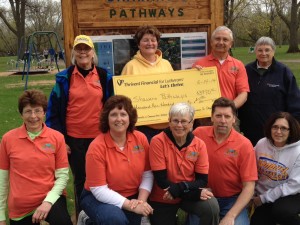 As a physical education teacher, gym with Mathison was as likely to involve spelunking, cross country skiing, rock climbing, and canoeing or kayaking. She designed curriculum in health and physical education to involve and challenge all students, regardless of ability or how much they liked competition or sports.
We all have talents, she says. When she heard from the parents of a special needs student in her class that Mathison made a difference in her life, she was especially moved. By the end of her career, she had the honor of coaching with her former students and teaching generations of students.
Mathison taught for 37 years and coached track for 12 years and volleyball for 25 years at Shawano High School in Wisconsin. Mathison coached two state championship teams in volleyball. She describes one state championship as a thrilling, come-from-behind victory after being down 0-13, and then scoring 15 points before the opponents scored 2. She still remembers the 47-car caravan that met the team bus 8 miles out of town. "It wasn't the win," she says. "It was the process." As a coach, the process meant treating her athletes with dignity. "I learned a long time ago that yelling—especially at women—is not helpful."
In 1998, she won the Disney Teacher of the Year Award in the Physical Education and Coaching category and also received the Lifetime Achievement Award in 2007 from the Women's Sports Advocates of Wisconsin. Mathison was a president of Augsburg Women's Recreation Association, and was inducted into the Augsburg Athletic Hall of Fame Induction in 1991. She was among the inaugural inductees into the new Wisconsin Volleyball Coaches Hall of Fame. In 2013, she was honored as a Distinguished Citizen of the Year by Shawano County.
Active at Augsburg
She knew she wanted to go to Augsburg, even when it didn't seem like it would be in the cards for her. "My 4 years at Augsburg totally changed my life," she says. "Going from a very small town to Augsburg and the Twin Cities provided me with great opportunities to experience greater diversity and be challenged in creating my own personal philosophy."
Playing basketball and volleyball at Augsburg, Mrs. Pete (Lavonne Johnson Peterson) '50 was instrumental, as were Ed Saugestad '59 and Joyce (Anderson) Pfaff '65. She stayed busy while she was in school, student-teaching at South High School, but it was an extra student-teaching assignment at Holy Name School that Mrs. Pete shared with her that really made a difference in helping her to afford school. She hitchhiked to get there until her senior year, when she got a car.
Mathison remembers her time at Augsburg, under President Oscar Anderson, as a volatile, energetic time, and one that allowed for fruitful discussion and direct engagement with issues. She still has the rawhide headband she wore to protests on 5th Street.
A Peaceful Retreat
She describes the place where she's lived since 1976, in Shawano, on the Wolf River, as a jewel. The old log cabin she shares with an Augustana Augie Harlan Pygman is away from the chaos of the city, and it's quiet, but never stagnant. There's a quiet energy there, she says, and its always flowing. "I take my dogs for a walk and there's deer and turkey and raccoons."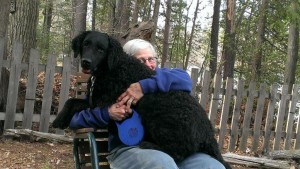 She loves cross-country skiing there, and for a special 60th birthday celebration, she skied the Engadin Skimarathon, an annual cross-country ski race held in the upper Engadine valley of Switzerland. Mathison compared the race to the American Birkebeiner, the race in Hayward, Wisconsin, that she has done 15 times. She's made all her major milestones special. For her 50th birthday, she climbed the Grand Tetons, and for her 70th birthday, she plans to sleep in an ice hotel in Iceland.