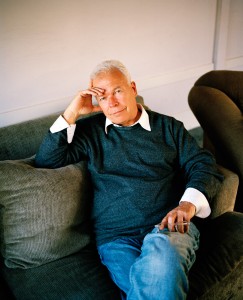 For 12 years, David Raether '78 wrote for TV comedy sitcoms, including 111 episodes of Roseanne. He absolutely loved it. It was invigorating being in "the Room" with other writers, brutally and honestly dissecting each other's work to make sure the script was as good as it could be. Did it work? Did it follow what set it up? Did it push the story forward? Was it funny? You could write a completely brilliant draft of a script, he says—one that everyone agrees reads great—and then see it completely rewritten by the group over the week of production. If you find that upsetting or galling, says Raether, don't go into comedy writing!
As much as he loved the work, however, the time commitment was enormous, and his family life suffered. Many nights, he would work till 3 a.m., which meant that he rarely enjoyed any family time beyond weekends. Something had to give, so he took a couple of years off to help pull the family back together—an effort that met with some success. Then, when he tried to return to TV work in 2007, he found a different landscape. Many sitcoms had been replaced by reality shows, and he had trouble finding a job, even though he had expanded his search beyond writing and editing.
Thus began what Raether calls an "incredible experience" that has shaped him in many ways. He sold off cars and other valuables to make ends meet, but sending out 2,541 resumes and applications was to no avail. Eventually, he found himself homeless. He lost his house, his career ended, his savings vanished, and his family (wife and eight kids) broke apart. The fall was tremendous. In a recent TEDxAmherst Talk, Raether talked about what it felt like not knowing where (or when) he would find the next meal, or where he would sleep that night. But in the process, he says, he discovered that he was far more resourceful and resilient than he had ever dreamed. He also learned that it is not shameful to be poor. Devastating, vulnerable, difficult, and painful, yes—but not shameful.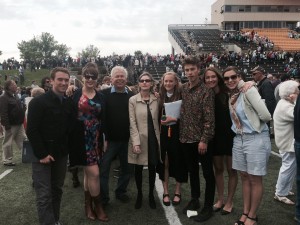 Now, Raether does contract work as a web content writer for various companies in the Bay Area, enough to "keep the wolf from the door." He continues to stay in touch with Tom Arnold, who first invited him to write for the Roseanne show, and who has been incredibly "helpful, warm, loyal and true." Raether says that people are always shocked when he says he thinks Arnold is brilliant.
Raether takes special pleasure in having worked with actors who could really deliver a joke, such as Roseanne, John Goodman, and the others on the Roseanne cast. It takes special skill and a special sense of yourself, he says. He also has become a great admirer of Betty White, with whom he worked for a season on a late 90s sitcom, Ladies Man. Amazing, he says of her. She just knew how to read a line and get a laugh from an audience.
When asked about how his Augsburg experience influenced his career decisions, he says that he is grateful for the tremendous education he got at Augsburg, and for the huge number of great books he read and the professors he had. But seeing Alan King perform on The Ed Sullivan Show as a five-year-old was what really set him on a track to enter the magical field of comedy. He was spellbound by the idea of a man standing alone on a stage, talking and making a roomful of people laugh. Though his mother cautioned him about a career in comedy, he was hooked. He also loved reading joke books like Mad and National Lampoon.
Recently, Raether wrote a book about his recent experiences, Tell Me Something, She Said. With every news story about his TED Talk or book, a new wave of reviews seems to appear. Among his favorites is one from a woman in Ireland who described her family difficulties and said that she and her husband had started reading the book aloud to each other. As the husband began reading the final chapter, he started crying and couldn't read it, so she finished reading it out loud. She read it, they held hands and talked, and then fell asleep. Raether says that was the best review he ever got.
By Cheryl Crockett '89