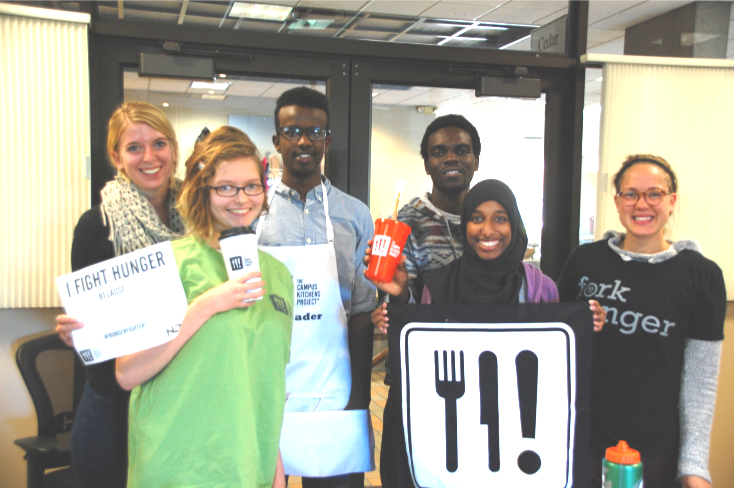 '18-'19 Leadership Team
Urgesa Chiri
Britta Andress
Alana Goodson
Lay Lay Zan
Sahra Tobe
Chou Khang
Rachel Rose
Nell Gehrke
Staff
Natalie Jacobson – Lutheran Volunteer Corps Member
Natalie joined the Campus Kitchen team in August 2018 after completing a BA in American Studies. During her time in school she focused on a variety of social justice issues including food access, healthy equity, and environmental justice. She served as Program Director of Carleton's Food Recovery Network chapter, an organization which recovers uneaten food from dining halls and donates that food to local community organizations. She worked in the campus Sustainability Office as Special Events Coordinator; one of her favorite events to organize was the No Impact Challenge, a week-long event where students compete to reduce their waste. As an Environment Fellow in her campus Civic Engagement Center, she helped the city of Northfield, MN prepare to write a city-wide Climate Action Plan. When she's not working with Campus Kitchens, you can catch her going for long walks, listening to podcasts, phone-banking for political candidates, and rewatching Gilmore Girls episodes.
Allyson Green – Coordinator
Allyson joined the Campus Kitchen in Fall 2014 after completing an MS in Environmental Justice and Environmental Health. While in graduate school, she spent her time organizing students and digging in the dirt with the University of Michigan Sustainable Food Program and Campus Farm. Her previous experience includes public health research on small-scale gold mining in Ghana, environmental education in Milwaukee, community outreach on water quality and coal mining in Appalachia, and science education research and service learning at Calvin College. She works with food because everyone eats food – it's a common ground issue that is connected to myriad complex environmental and social issues. When she's not serving meals or gardening with students, she can be found canning, making homemade ice cream, or wandering in the woods with a Wendell Berry book in hand.
Allyson also serves as Augsburg's Chief Sustainability Officer coordinating campus-wide environmental stewardship efforts.