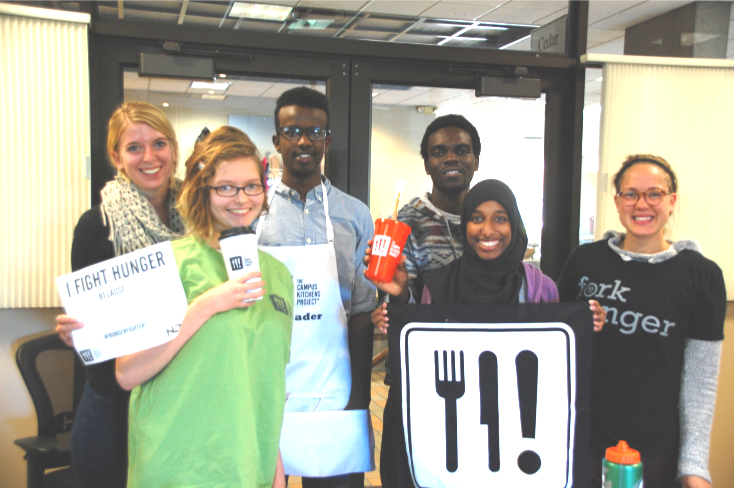 '17-'18 Leadership Team
Janet Nguyen
Lidiya Ahmed
Urgesa Chiri
Britta Andress
Shelby Briedenbach
Alana Goodson
Staff
Claire Norman – MN GreenCorps
Claire joined the Campus Kitchen team in September 2017 after completing a BA in biology from Macalester College. During her time in school she focused on public health and urban studies, leading to her interest in food systems work as a way to increase health equity in Minneapolis. Through her time spent studying abroad in Shanghai, China during Fall 2015, Claire experienced first-hand how both differing urban environments and food cultures can have significant impacts on health. When she's not serving meals or thinking about how to bring more fresh produce into the neighborhood, you can catch her playing rugby, making homemade pizza, and exploring the nearby state parks. 
Allyson Green – Coordinator
Allyson joined the Campus Kitchen in Fall 2014 after completing an MS in Environmental Justice and Environmental Health. While in graduate school, she spent her time organizing students and digging in the dirt with the University of Michigan Sustainable Food Program and Campus Farm. Her previous experience includes public health research on small-scale gold mining in Ghana, environmental education in Milwaukee, community outreach on water quality and coal mining in Appalachia, and science education research and service learning at Calvin College. She works with food because everyone eats food – it's a common ground issue that is connected to myriad complex environmental and social issues. When she's not serving meals or gardening with students, she can be found canning, making homemade ice cream, or wandering in the woods with a Wendell Berry book in hand.
Allyson also serves as Augsburg's Chief Sustainability Officer coordinating campus-wide environmental stewardship efforts.