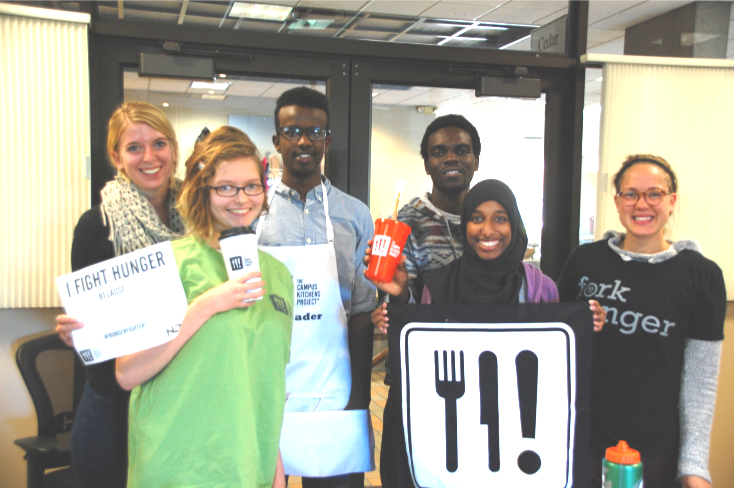 '16-'17 Leadership Team
Gemedi Bakuto
Junior, Biology
Marisa Benasutti
Senior, Major in Food Policy and Sustainable Agriculture, French Minor
Urgesa Chiri
Sophomore, Biology and Computer Science
Grace Corbin
Senior, Youth and Family Ministry
Nell Gerhke
Freshman, Environmental Studies
Hsinku Lay
Freshman, Undecided
Milkii Moya
Sophomore, Biology
Megan Robertson
Junior, Education
Elana Dahlberg
University of Minnesota MSW intern
Staff
Nora Barr – MN Healthcorps VISTA
Nora Joined the Campus Kitchen team in June, 2016. She  graduated from Augsburg in May, 2016 with a BA in Urban Studies. During her time at Augsburg, she volunteered with Campus Kitchen for a few shifts, and was involved in other non-profit organizations both on and off campus. Nora developed an interest in environmental issues, and climate change became a focal point of her studies and research during her senior year. Through an internship experience with the Organic Consumers Association, she learned about regenerative agriculture, and the large role food systems place in personal and environmental health. Nora is interested in urban environments, having grown up in New York City, and studied Metropolitan Studies in Berlin in Spring, 2015. She is passionate about working towards health equity in Cedar-Riverside during her year after college, as she applies to graduate school and plays the drums in local music groups. Catch her doing unique stuff at any of Minneapolis' many quality music venues.
Allyson Green – Director
Allyson joined the Campus Kitchen in Fall 2014 after completing an MS in Environmental Justice and Environmental Health. While in graduate school, she spent her time organizing students and digging in the dirt with the University of Michigan Sustainable Food Program and Campus Farm. Her previous experience includes public health research on small-scale gold mining in Ghana, environmental education in Milwaukee, community outreach on water quality and coal mining in Appalachia, and science education research and service learning at Calvin College. She works with food because everyone eats food – it's a common ground issue that is connected to myriad complex environmental and social issues. When she's not serving meals or gardening with students, she can be found canning, making homemade ice cream, or wandering in the woods with a Wendell Berry book in hand.