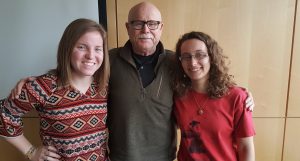 Christensen Vocation Interns intentionally explore how the concept We are called to Service in the World applies in a work setting. 
Each spring, Augsburg students serve at faith-based nonprofit organizations for 100 hours during the semester. They also participate in a bi-weekly seminar where they reflect on vocation readings, assessments, and work site experiences together. Learn More about the 2017 Opportunity.
The 2017 Christensen Vocation Interns can serve at:
– Restoration Center at Central Lutheran Church, Downtown Minneapolis
– Trinity Lutheran Church/Safe Place, South Minneapolis
– St. Paul's Lutheran Church, South Minneapolis
– Redeemer Lutheran Church, North Minneapolis
View the site-specific internship positions on the Strommen Center's AUGPOST website (Search by site name or by "Christensen Vocation Intern") or contact ccv@augsburg.edu to receive a packet of the job positions.
Deadline: November 28
The Christensen Interns will be selected based on strong interest in exploring vocation, call, and career interests in faith-based or service organizations, as well as potential match with the internship site's needs.
Questions? Contact Lonna Field at 612-330-1467 or ccv@augsburg.edu