Fob Access Cards
In the Summer of 2013, additional fob accessible exterior entrances were added to all academic buildings. This means that we are able to keep campus more secure and well monitored by locking exterior doors to academic buildings in the evenings and on weekends when building usage is low. Fob access entrances allow the Augsburg Community to access the buildings for academic use while continuing to keep the building secure.
Request Access
The Access Request Form below can be submitted for an academic key request, new fob request, or fob clearance request.  Academic Key requests should be completed by Department Directors or Chairs. If you are unsure who this is in your area, please view our listings of authorizing directors and chairs.
A specific group of people needing fob access to a specific area (ex. Honors students need access to Honors Lab) will need a clearance created in the fob system. New clearance list requests as well as updates to current clearances should be submitted below. Following your submission, please send a full list of those who need to be added to the clearance with an Excel Spreadsheet to fobaccess@support.augsburg.edu.
Fill out the Access Request Form
Report lost/stolen Key or Fob
Lost keys and fobs may be submitted using the form below. After submitting the form online, notify Public Safety immediately of any lost or stolen keys/fobs so that we can take action to secure the spaces in which they give access to. Contact Public Safety Dispatch 24 hours a day at 612-330-1717 or just x1717 from a campus phone.
The first fob issued is free to Augsburg Faculty, Staff, Students, and Alumni. Fob replacements are $35.
Resident Keys
Students living in on-campus housing  (for Urness, Mortensen, Anderson, Oren, and Luther) will be issued keys at the beginning of their housing contract. Lost or stolen resident keys should be reported to Residence Life and/or Public Safety dispatch.
Fill out the Access Request Form
________________________________________________________________________________________________________________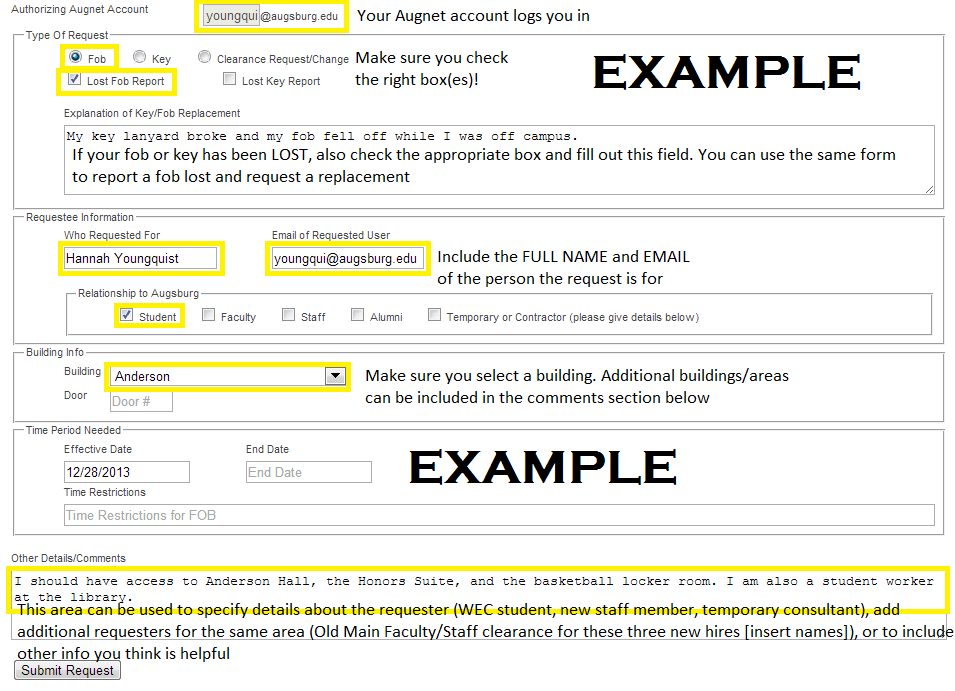 Upon receipt of the key(s), the employee agrees to the following:
I agree to immediately report the loss of this key to the Department of Public Safety, and understand that this key is not to be wrongfully used or duplicated. I understand that Augsburg University reserves the right to assess fees to my department or company for any re-keying costs if this key is lost or not returned. By accepting this key, I acknowledge my responsibility for all property and/or records secured by the lock operated by this key. I will not transfer this key to any other person and will surrender it to DPS when I end my employment with Augsburg University or move to another campus location. I acknowledge that no key will be issued without photo identification.