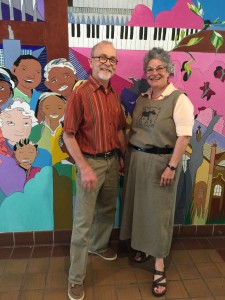 As a young girl raised Jewish in St. Louis, Missouri, Diane Levy Jacobson never imagined that she and her husband, Paul, might one day endow a scholarship for a Muslim student at Augsburg. But then she never imagined that she would teach Scripture, either. Or become a Christian, for that matter.
"Becoming a Lutheran biblical professor was certainly not in my life plan while I was growing up, and I'm sure I had no idea what a seminary was. God has a great sense of humor," says Diane, professor emeritus at Luther Seminary, St. Paul, where she taught from 1982 to 2010.
By the time she got to Connecticut College, in New London, Connecticut, she decided to major in religion. Times were turbulent, and what was then a liberal protestant church championed civil rights and antiwar causes.
"It's interesting right now with all the politics swirling, and it wasn't all that different in the '60s. I got involved in the campus ministry, which was a large part of the political movement," says Diane, a self-described searcher. "I felt very alive and in the middle of things. God works in mysterious ways!"
Diane earned a master's degree in religion from Columbia University and a doctorate from Union Theological Seminary, where she met and married Paul Jacobson, a St. Olaf graduate and son of a Lutheran pastor. They attended a Lutheran church, where she taught Sunday school, yet she remained Jewish "because it seemed wrong not to." A change of heart had occurred by the time her second son was born; she and her sons were baptized together.
"Then I became a super Lutheran," she says with a chuckle. Diane was called to teach at Luther, so the family moved to Minnesota in 1982, where Paul pursued his music career as composer, flutist, and co-founder of the Lyra Baroque Orchestra. At Luther, Diane became the first woman to teach Bible at any Lutheran seminary in the country. A well-respected leader, frequent speaker, and author of numerous publications, she retired in February as director of the Book of Faith Initiative for the Evangelical Lutheran Church in America.
"I can't imagine anything that would be more rewarding to do," she says of her career. "It is quite a privilege to be a teacher of any sort, and it has been exciting to be part of the ELCA, the church, and education." Continue reading "Endowed Scholarship Celebrates the Ecumenical" →