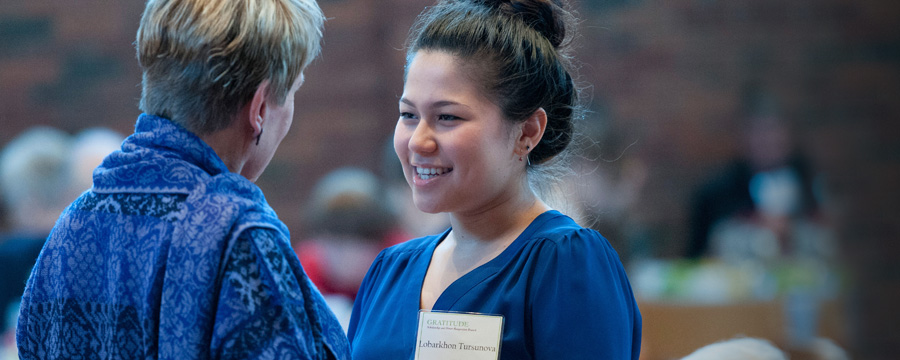 Donors who give annually to academic scholarships or create permanent scholarship endowments reduce student debt and provide financial support to those who may not otherwise be able to afford college. These gifts encourage students in highly valued academic disciplines, reward students for high achievement, and inspire students to pay it forward. Donors can choose to support existing scholarships or to create a new scholarship.
Thanks to the generosity of friends and alumni, students today benefit from more than 350 scholarships that provide more than 450 awards, ranging annually from $125 to $25,000.
The Sesquicentennial Scholarship

As the Augsburg community celebrates the 150th anniversary of our founding in 2019-2020, all alumni, parents, and friends of the University are invited to contribute to a new, unrestricted, endowed scholarship called The Sesquicentennial Scholarship Fund. This fund is a way for donors at all levels to provide scholarship support and stay connected to Augsburg through annual fund reporting. Give to the Sesquicentennial Scholarship online now.
Presidential SCHOLARSHIP
The Presidential Scholarship recognize first-year students of exceptional academic ability with strong evidence of leadership potential. Award decisions are based on all factors of a student's application, including academic performance, class rigor, letters of recommendation, leadership, essay responses, and extracurricular activities.
A *Your Name Here* SCHOLARSHIP
Donors who create endowed scholarships with a gift of $50,000 or more may establish scholarships in their name or to honor a cherished family member or professor. Named scholarships can be permanently endowed to create a lasting legacy that will support talented students for years to come. For more information about endowing a scholarship, please contact Heather Riddle, Vice President for Advancement at riddle@augsburg.edu or 612-330-1177.
THANKS TO YOU
Auggies are engaged in learning and service. Gifts to scholarships at Augsburg help create experiences and opportunities that allow students to focus on their studies, pursue funded research, and study abroad. More than 95 percent of Augsburg students benefit from academic scholarships and grants that support an active education and fund students' engagement in their communities and the world. Celebrate student achievement and help make a college education accessible by making a generous gift to support our most deserving students.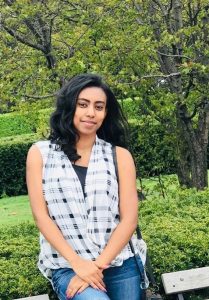 Metti Gari '20 is a recipient of the Dr. Courtland L. Agre Memorial Scholarship, Iver and Marie Iverson Scholarship, and Reverend Arnold J. Melom Scholarship. Metti served as a public safety dispatcher at Augsburg, was an international student mentor and undergraduate student researcher for the Center For Sustainable Nanotechnology, and completed her research with Dr. Vivien Feng on the Genotoxicity of Lithium Cobalt Oxide towards Bacillus Subtillus.
"I am extremely grateful for your donations towards my studies. As an international student, this means a lot to me as it opens many doors and opportunities each day I spend here at Augsburg. Most importantly, this gesture gives me motivation and inspiration to work hard in my day-to-day activities. Lastly, I strive to be someone successful and one day come back and do the same as you did for me." – Metti Gari '20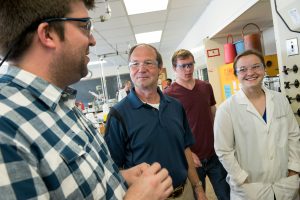 Terry Lindstrom '73 and Dean Sundquist '81 find that giving back to their alma mater is a way to inspire young researchers to pursue their passions. They support the Office of Undergraduate Research and Graduate Opportunity, known as URGO, which aligns students' interests with research by faculty. Each year, research by more than 16 Augsburg students is funded with the financial support of Lindstrom and Sundquist.
"Everyone deserves to find the career that creates passion," — Terry Lindstrom '73