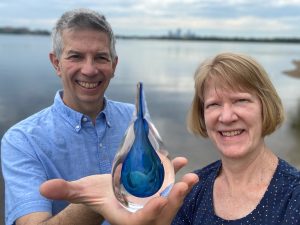 When alumna Naomi '81 and her husband, Steve, updated their will this past April, they knew Augsburg University would be part of their legacy.
"Augsburg and the people who have become my lifelong friends – both fellow students, alumni colleagues, and faculty – have been a large part of how my life continues to be molded and shaped."
Naomi grew up in a family dedicated to faith. When she was a child, her father would often speak about stewardship and using what God gives us to continue God's purposes here on earth.
"I recall a small white church coin bank that I received as a child. I collected my coins in that bank until it was time to make the gift to the church. Emptying the whole thing was exciting. I can see it as cathartic now, liberating in a way."
Naomi graduated from Augsburg in 1981 with a degree in Elementary Education. As a student, she was captivated by Leland B. Sateren's dedication to all things Augsburg music, especially in the context of sacred texts.
She reflects that, "singing for Lee made the scriptures come alive!" That experience, as well as 40+ more years of singing in several metro area choirs, is the reason she and Steve made a significant gift to the Leland B. Sateren Choral Music Scholarship.
Naomi also fondly remembers working for both President Oscar Anderson and President Chuck Anderson. "Despite their leadership responsibilities, both presidents made a point to have a working relationship with me as a student." In addition, she was spellbound learning from and about Bernhard and Gracia Christensen through their devotion to the institution. These examples of leadership are inspiration to Naomi, enlightening how to best approach relationships of all sorts and informing the legacy gift to the Bernhard Christensen Center for Vocation.
The Staruch's are photographed here with an Augsburg Water Droplet. Benefactors who choose to invest in an endowed scholarship receive a handmade glass water droplet crafted by Anchor Bend Glassworks.