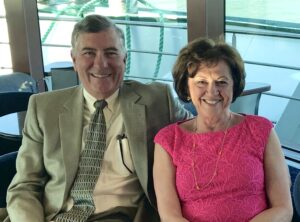 Mark and Margie Eustis spent no college days at Augsburg, but the connections they have forged since run long and deep. Their $1 million, multi-year pledge to the President's Strategic Fund as part of the Great Returns campaign is their most recent gift to an institution they support strongly and often.
Mark grew up in Minnesota and earned business and healthcare administration degrees from the University of Minnesota, but he did not become closely acquainted with Augsburg until he became president and CEO of Fairview Health Services in 2007. That was when he met President Paul Pribbenow, who approached him about joining Augsburg's Board of Regents.
"I was excited to say yes," says Mark, who served on the Board from 2008 to 2020. "Paul and I belonged to many of the same community groups, and both of our institutions had the same Lutheran immigrant heritage. We became really good friends and close colleagues." They also embraced the same goals of transformation and innovation.
Early on, Mark spotted an opportunity to help his new friend by helping the Board establish the President's Strategic Fund, which could provide "the resources he needed to do things he might otherwise not be able to do,"  either because they were not in the budget, or there was a shortfall, or some other reason. "We wanted Paul to have that flexibility. I trust his leadership."
Good ideas can come from anywhere, Mark points out, and when they show up, funds should be available to pursue them. These diverse initiatives have included tutoring neighborhood youth through the Cedar Riverside Athletics and Enrichment program, providing scholarships and support for women in STEM, enriching interfaith programming, supporting Augsburg Health Commons drop-in centers, sponsoring arts and science projects, and designing an admissions process for kids coming out of foster care.
"With so many first-generation college students coming to Augsburg, we needed to tailor programs specifically to those students and their needs," Mark says. "Augsburg is a unique place. When others fled the city for the suburbs, Augsburg elected to stay. They took advantage of the environment and are now providing an urban education and urban experience to an incredibly diverse population."
Mark's wife, Margie, was new to Minnesota as well as Augsburg, but she was impressed by what she saw. "I've always been amazed at the passion people have at this institution for its continuing programs and for creating new programs. They're almost always a step ahead of everyone else," she says. "Paul has done a wonderful job. He's super smart but very caring and totally passionate. It's been fun to watch."
Augsburg is also committed to "not just educating its students, but also making their aspirations a reality," adds Mark. That means looking specifically at what employers in the community might need and creating connections so that graduating students can find jobs. While he was at Fairview, for example, Mark knew that biology was a popular major, and that students often went on to pre-med studies or physician assistant programs. It made sense to facilitate the transition from a broad liberal arts background to a more specialized career track.
Pribbenow's excellence at partnering and his realization that Augsburg cannot achieve its goals alone have not only aided this endeavor, but also made him a leader both locally and nationally. As Mark puts it, "he is a true example of servant leadership. He believes in doing what's right for the community."
Mark and Margie now live part-time in Michigan, where they met, and in Missouri, where Mark held healthcare administration and teaching positions. But both still serve on the President's Council, where they enjoy staying connected and continue to nurture an administration they believe in. "Augsburg has stayed true to its values while others have drifted. As a Lutheran institution, it has strong values based in the Lutheran tradition but open to all faiths," says Mark. "They are able to engage in that diversity in part because they are small, but in part because they remain focused on the key values that have been in place since their inception."