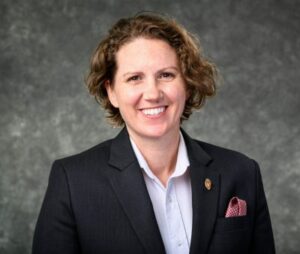 Christina Olstad '00 '05 demonstrates what being "All In" for Augsburg can look like. She earned both her undergraduate and graduate degrees in social work from Augsburg and remains committed to the university in a multitude of ways. She serves on the board of Augsburg Women Engaged (AWE) and has contributed to the Augsburg Fund and the women's soccer and hockey programs.
Christina grew up in Apple Valley with the dream of playing soccer in college. Her traveling team in high school played occasional games on Augsburg's campus. When she began looking into colleges, the Augsburg Women's soccer coach at the time, Scott Hansing reached out to her. Christina's connection to Scott, Augsburg's Lutheran roots, and the close proximity to her family made Augsburg an easy choice. 
In addition to athletics, one class that made a profound impact on Christina was her freshman January term class. "My friends and I did an 'exploring human services' course. We would take the bus to go to the MS Achievement Center every day to volunteer. It was because of that class that I knew I wanted to go into social work and I met some of my closest friends," she reflected. 
Shortly after graduating, Christina secured a position as a hall director and student activities advisor at Augsburg. "I feel like Augsburg has given me so much. They invested in me as a young professional and mentored me through the early stages of my career." Christina is currently the Dean of Students at the University of Wisconsin–Madison and continues to carry the valuable experiences she had at Augsburg with her.  
When Christina heard about the opportunity to participate on the board of Augsburg Women Engaged (AWE), she was eager to help out her alma mater in any way she could. "In my role as Dean of Students, I get the opportunity to interact a lot with our advancement team, so I understand the importance of cultivating a culture of philanthropy." One initiative she found noteworthy was a campaign they held in collaboration with Augsburg's Campus Cupboard. "I'm really passionate about food security and ensuring no student goes hungry at my school, so it was rewarding to be a part of that effort."
Along with her position with AWE, Christina has made gifts to various programs and initiatives at Augsburg. When it comes to giving she is adamant about the belief that any amount of giving helps. "It's all about how you want to give back and how you want your gift to help leave a legacy," she said. For Christina, getting in the habit of giving is crucial and it helps to think about what drew her to Augsburg in the first place. "For me, it was my class sizes and the ability to get to know all my professors. Augsburg is an incredible institution that provided me with a lot of opportunities. It's important to reflect on where you are today and how places like Augsburg helped you get there."
The Great Returns: We're All In campaign concluded on May 31 and raised more than $128,000,000 thanks to our generous benefactors, alumni, and partners! Read more about the Great Returns campaign and RSVP for our September 29th celebration event!