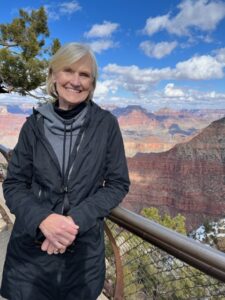 Pastor Dave, as he was known throughout his three decades at Augsburg, was a larger-than-life presence whose legacy will continue to nurture and support future students through the Pastor Dave & Cathy Wold Endowed Scholarship.
Although he retired in 2013 and died unexpectedly in 2018 at age 72, the former campus pastor is still fondly remembered by many. He was famous for the jokes and puns he inserted into conversations and the enthusiasm he brought to his various campus pursuits, from presiding over daily chapel and weekly Eucharist services to coordinating Advent Vespers and announcing athletic events such as football, men's basketball, and wrestling. He founded the Holy Hoops basketball league and led the "World Famous Bunch of Guys Chorus" in their performances around campus. Along with providing spiritual guidance, he built and cherished relationships with everyone he met, meanwhile developing a special connection with Augsburg itself.
"He was an encourager," says his widow, Cathy, who has designated a $100,000 planned gift to establish the scholarship. "He believed in Augsburg so much. He was the campus pastor, but he immersed himself in everything there as much as possible. He tried to get to know every student—their name, something about them."
Neither Dave nor Cathy were alumni. The two were childhood family friends who reconnected at Concordia College, where Cathy was earning her education degree and Dave was visiting with student groups as part of his ministry. A St. Olaf graduate, he had been ordained at Luther Seminary and was serving Calvary Lutheran Church in Golden Valley when they married in 1974. He became director of the Youth Ministries Division of the American Lutheran Church, but his national and international responsibilities required such extensive travel that the young family yearned for an opportunity closer to home. 
Dave was named Director of Campus Ministries at Augsburg in 1983. "He was elated. He just loved it," Cathy recalls. Their three children also spent much of their time on campus as they were growing up. "Everybody loved Augsburg, and we still love it."
As a teacher and specialist in early childhood family education for 16 years, Cathy shared Dave's respect for and devotion to higher education. "He was a big believer in liberal arts, and this is a pretty special place. It's unique, it's in the city, and it offers programs that not every college has, such as those for students with special needs. It also draws a really diverse population of students who don't necessarily have the means to go to college," she says.
Because Dave spent thirty years getting to know students, providing programs to help them, and watching as they graduated and established successful lives, Cathy thinks he would be pleased with the family's decision to create an endowed scholarship as part of Augsburg's Great Returns campaign. It will support students who demonstrate financial need and, preferably, intend to live out their Christian vocations through serving others and building community. During this campaign, more than 150 benefactors have either started a new endowed scholarship or made a gift of $25,000 or more to an existing one.
"Dave positively impacted so many students, and I know that because so many of them have written letters to him over the years," Cathy says. "I want to be able to have his memory live on at Augsburg in some way, and I believe this is the best way to do that."
Learn more about Augsburg's Great Returns campaign.