Your financial support empowers students to explore enriching educational, professional, and experiential opportunities.
Your gifts make a difference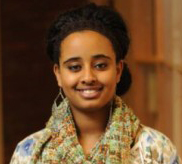 Chemistry major Eleni Beyene '16 was an Interfaith Scholar, a Sabo Scholar, a Peace Scholar, and a Sundquist Scholar. She was able to do more at Augsburg with your support.
"The scholarships and aid I received from Augsburg gave me an opportunity to be a part of so many incredible things. I am truly blessed."
In this video scholarship recipient, Biology and Chemistry major Promise Okeke '15 tells his Augsburg story, thanking donors at the 2014 Scholarship and Donor Recognition Brunch for their generous support of his education and research.