Gifts from alumni, parents, friends, faculty, and staff are the lifeblood of The Augsburg Fund. This fund touches the lives of every student, faculty, and staff member. Donors who contribute $1,000 or more between June 1 and May 31 of each year are recognized in the Maroon and Silver Society, a society that makes up 65% of overall funding for The Augsburg Fund.
Making Cents of Your Dollar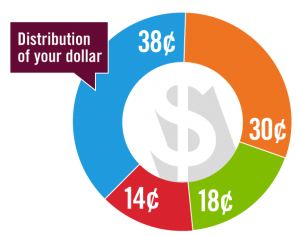 Here's how gifts to the Augsburg Fund make a difference every year

38¢: Instruction and Academic Support
Helps maintain a low 15:1 student/faculty ratio and assists in recruiting and supporting talented faculty, helping departments to meet the needs of all students.
30¢: Scholarships
Ninety-five percent of students receive academic scholarships and grants—many would not receive an Augsburg education without the crucial support provided by donors like you.

18¢: Student Programs
From campus ministry to athletics, internships, career development, and study abroad, co-curricular programs enrich the Augsburg experience for students.

14¢: Public Service and Institutional Support
Provides a welcoming and safe urban campus, supports strategic initiatives, and promotes community events.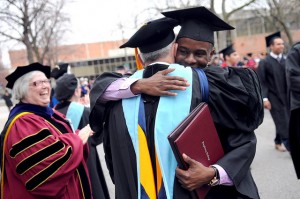 Gifts to the Augsburg Fund provide Augsburg with unrestricted, discretionary dollars to improve the student experience by making annual strategic investments in operations, academic programs, technologies and more. Generous contributions allow Augsburg to deploy resources as needs and opportunities arise. In a given year, the Augsburg Fund may support campus-wide technology upgrades, such as wider WiFi capability, safety or accessibility improvements, and new curriculum development, such as experiential learning and the inaugural River Semester in 2015, in which 16 students traveled the length of the Mississippi River from Minneapolis to New Orleans by canoe, bus, boat, and train in a unique, low-carbon off-campus learning expedition.
Give online now. It's fast, easy and secure.