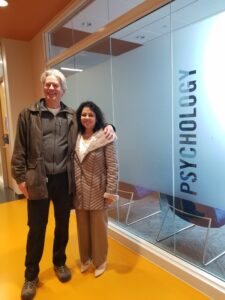 A serendipitous meeting nearly 35 years ago has led to a promising future for new generations of international students through the Forde Family Endowed Scholarship, which Ann Nagendran '92 has established with an initial gift of $100,000 as part of Augsburg's Great Returns campaign.
Ann was a medical student in Kandy, Sri Lanka in 1989, when her mother, Anula Lawrentz, traveled to the U.S. for Ann's sister's wedding and wound up spending six months in Minnesota. Not one to sit around and waste time while waiting to return home, Anula began volunteering, taking care of a terminally ill Sri Lankan woman who lived here. Ilene Forde was a volunteer with Meals on Wheels, so the two met often as food was delivered to the ill woman's home. When she needed to go to the hospital, both volunteers were there to take her, and they got to chatting in the waiting room. Anula told Ilene about Ann's studies as well as her own fervent wish to help her children escape their war-torn homeland and pursue their educations abroad.
Anula was back home when she received a letter from Ilene and her husband, Luther, offering to sponsor Ann in the U.S. The Fordes would handle all the documentation and help Ann get set up in a new home. They could also recommend a good college: Augsburg. 
"I was so excited! I was 24 when I came, and it was my first time out of the country as well," says Ann. "I was nervous because I didn't know the system at all, but it was a small college and manageable."
Perhaps blessed with her mother's energy and sense of purpose, Ann settled in, making friends, taking classes, and working 20 hours a week at various jobs, including in food service, at a deli, and as a phone operator. While earning her psychology degree, she also interned as a counselor, working with sexually abused teenagers and the mentally disabled.
Meanwhile, the Forde family—Ilene and Luther as well as their children, John, Jim, and Martha—stayed close, offering friendship as well as kindness and support.
"We had a wonderful relationship, always great," Ann says, recounting how the two families eventually crossed oceans and continents to visit each other. "John especially was like my big brother, always there for me. He took me on my first camping trip, into the Black Hills, and to a hippie festival once. He showed me so much. Even simple stuff, like going to an Army surplus store for inexpensive clothes. I wore that sweater for years."
Now married, the mother of three sons in their 20s, and living in New Jersey, Ann is busy running a laundromat and an Airbnb when she is not traveling or ballroom dancing. She has recently visited the Augsburg campus, where she was impressed by the new buildings as well as the growing diversity, religious and otherwise, of the student body. She also was thrilled to meet President Paul Pribbenow, whom she praised as "a down-to-earth gentleman."
She has not forgotten what it meant to be a foreign student on an unfamiliar campus, and she wants her gift to help those who follow in her footsteps. At the same time, she wants to honor the Forde family that has meant so much to her. She stays in touch with John and his wife, Catherine, as well as Jim and his wife, Sandy. Ilene, Luther, and Martha have passed away.
"In hindsight, I wish I would have done this while they were alive. Just before my father passed away just a few years ago, he told me how important it is to make the people you are honoring aware of what you have done. Although I had always meant to donate, that had never occurred to me," she says. "But it's never too late. The Fordes opened doors for me, and I should do likewise for someone else."  
Learn more about Augsburg's Great Returns campaign.