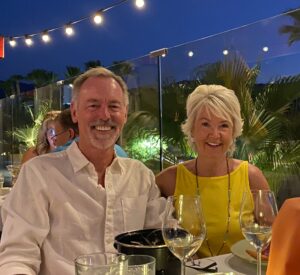 Fresh into retirement, Cyndi (Cynthia) Jones, Ph.D. '81 is as full of spirited youth as she must have been in her cheerleader days, when she launched a career of defying expectations and mastering challenges. Together with husband, Rick Jones, who matches her brainy enthusiasm and generosity, the pair are "all in," pledging their entire estate to Augsburg as part of its Great Returns campaign.
"We thought it would really make a difference to someone in their lives, as it did for me," says Cyndi, a nuclear engineer and Augsburg Regent. She earned other degrees from other schools—a Master's in health physics from Georgia Tech and a Master's and Ph.D. in nuclear engineering from the University of Maryland—but those schools are already well-endowed, she points out, and it's doubtful their students get the personal support and affirmation that Cyndi treasured at Augsburg. Besides, for many Augsburg students then and now, "every cent counts."
As a high school student from Foley, Minnesota, Cyndi had no plans to become a nuclear physicist and eventual senior technical advisor for nuclear security at the U.S. Nuclear Regulatory Commission. If she imagined she would someday monitor Japan's nuclear crisis, travel the world to teach radiation safety, or enjoy four years living in Vienna, Austria, as the US nuclear safety attaché to the U.S. Ambassador, she didn't let on. She was busy excelling on the clarinet, editing the school newspaper, and participating in band and theater. She also took physics and chemistry.
When she walked into the physics room that first day, the high school teacher thought she was lost. "Typing is down the hall," he said, pointing. Cyndi—whose Polish dad was a machinist and English mom sold men's clothing and spent nine years managing a household without running water—did not flinch. Despite her instructor's initial vociferous doubts, she flourished. Again and again. The first in her family to attend college, she rejected a full scholarship at St. Cloud State University to attend Augsburg, where she was personally welcomed by its "brilliant band director" and planned to major in music, working three jobs to supplement a partial scholarship.
This time fate would throw down the gauntlet. Climbing into the window of a renovated old house during a toga party, the vivacious Augsburg freshman collided with a bag of cement, breaking her left hand, which needed 13 weeks in an L-shaped cast to heal. Unable to play her clarinet, she spent J-term studying Physics for the Life Sciences with Professor Mark Engebretson, who recognized that she "had a knack." Physics, Chemistry, and Calculus followed.
"Math and music are closely related," Cyndi notes. "I had fabulous professors." Dr. Ken Erickson encouraged her to forego some side jobs to focus on her grades; she became only the third woman to graduate in physics from Augsburg. "He had a profound effect at a turning point in her career," Rick says. "He gave her sound advice: to follow her passion."
Career rewards lagged, but Augsburg did offer her a $100/month stipend to teach the weekly Physics lab. And about a year after graduating, Cyndi, in her bathing suit, at her second job at the Fairview-St. Mary's swimming pool, took a phone call: an offer to fly down to Oak Ridge, Tennessee, for an interview as a health physicist (Augsburg Professor Kermit Paulson had introduced Cyndi to health physics). She accepted and was offered the job on-site. "I taught the instrumentation lab for 5- and 10-week health physics courses, and memorized the students' names by the end of the first week," she recalls. One of them—Rick—"was really cute."
Rick remembers thinking the same of her. "She was something else—one very smart lady, very motivated. I told her she was the one I wanted to marry, however long it took." (One year.) A California native, USC graduate and erstwhile dental hygienist, Rick served eight years in the Navy before transitioning to civil service in Washington, D.C., where he earned a Master's in radiation biology at Georgetown and retired in 2005 as the Deputy Assistant Secretary for Health at the U.S. Department of Energy. He has been instrumental in advocating for Augsburg, recognizing how much her experience there meant to his wife.
Cyndi also cites the stewardship of President Paul Pribbenow as key to their gifting decisions. "He was genuinely interested in what Augsburg had done for me and has a vision for what he can do for students. He has a personal passion, a real understanding of what alumni have gone through and what kind of future Augsburg can provide for its students."
Cyndi and Rick have supported Augsburg in several ways, including funding the Professor Kenneth N. Erickson Physics Scholarship and, in 2017, commemorating the new physics lab, nicknamed Landow's Photon Shop in honor of Cyndi's dad (her maiden name was Landowski) and aptly subtitled Physics: The Maestro of Science!
"Augsburg was such a unique experience, and I think it's still that way," says Cyndi, the white Minnesota girl who got to interact with people from all over the world, study religions unlike her own, and benefit from the small-town, personal-touch vibe in the big-city center. "They make sure they help you finish. They're not just there to take your money. They know you're there to learn," she says. "It's been a real honor and pleasure to be on the Board two different times."
And what about that high-school naysayer? Cyndi and Rick invited him to their wedding, where he owned up to his mistake and confessed how proud he was of her, a sentiment the Augsburg faculty and administration undoubtedly share.