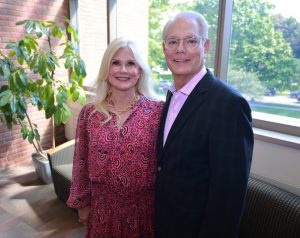 When Tom '72 and Karen Howe were thinking about how they could support Augsburg, they wanted to spark possibilities for the next generation of entrepreneurs and leaders. They decided to establish the Thomas '72 and Karen Howe Endowed Professorship for Entrepreneurship at Augsburg University. Tom graduated from Augsburg in 1972 with a degree in business administration and he and Karen both have extensive leadership experience in the business sector. Tom was the owner and CEO of SwansonFlo Co from 1991-2022 while Karen was an account executive at the creative brand agency, Yamamoto, and later went into business with their daughter, Liz, owning a pet boutique, LuLu & Luigi, in St. Louis Park and Wayzata.
Although he was studying business, Tom also participated on the wrestling team, made lifelong friends as a member of Gamma Phi Omega, (known today as the Gammas) and enjoyed taking classes that were outside of his major. Upon reflecting on what he took away from his time at Augsburg, Tom explained what the Hagfors Center for Science, Business, and Religion represents to him. "Although the building was built forty years after I graduated, the three disciplines taught in that space illustrate exactly what made a lasting impact on me," Tom shared. "My business courses prepared me for a career, but I uniquely remember a religion class that explored all faiths and an astronomy class that examined our physical origins. They challenged my beliefs and expanded my mind. I may not have known it at the time, but Augsburg gave me much more than a degree. Augsburg taught me critical thinking which is applied to every area of my life."
Business and entrepreneurship followed Tom and Karen after graduating. Tom began working for his father's company, Howe Inc. – a business that had been in the family for three generations. "It was a great learning experience where I could contribute ideas and be part of the decision-making process, but I also had opportunities to fail and learn from my mistakes." Karen's focus in home economics at the University of Minnesota contributed to her interest in the field. "I enjoyed the marketing classes," Karen stated. "Understanding its [marketing] many facets became highly important in my day-to-day work." It was at Yamamoto where Karen honed her skills that prepared her to own her own business. 
Throughout the years, Karen and Tom have supported Augsburg in instrumental ways. At the heart of their philanthropy is their connection to Augsburg's mission. "Augsburg was founded as a Norwegian Lutheran college and provided an education to first-generation students. Today it continues to carry out that objective and provide students a three-dimensional education: make a living, make a life, and build a community," Tom said. 
Paul Mueller '84, chair of Augsburg's Great Returns campaign shared, "We are all grateful for Tom and Karen's very generous gift to Augsburg. The Howes believe an Augsburg education will produce the next generation of business leaders who manifest ethical and conscious entrepreneurship—business leadership that makes the world a better place." 
Through the newly established Thomas '72 and Karen Howe Endowed Professorship for Entrepreneurship, they hope to strengthen Augsburg's business department and inspire innovation and leadership. "Two-thirds of all students take classes or major in business. It introduces them to the free-market system, the positives of capitalism, and the power of freedom," Tom shared. Their accomplishments and desire to help current and future Auggies find success can all be tied back to the American dream. "You have to believe in yourself, get inspired, and figure out how your unique ideas can benefit society," Tom said. "There are many ways people can find success and not everyone has the same starting point. You don't have to know everything, but identify your talents and surround yourself with people who will complement your strengths." Karen added. For Tom and Karen, supporting Augsburg is an investment in future generations that has unlimited potential.
Provost and and Senior Vice President for Academic and Student Affairs, Paula O'Loughlin shared, "We are incredibly grateful for the Howe's generosity in establishing this endowed Professorship. Developing leaders through entrepreneurship among our students has been a signature commitment in Augsburg's curriculum since our beginnings. The Thomas and Karen Howe Endowed Professorship in Entrepreneurship will enable us to broaden our offerings for students interested in starting their own businesses for years to come."