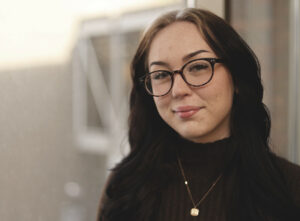 Shelby Waldon '25 decided to attend Augsburg, in large part, due to the StepUP® Program. "I was deciding between Augsburg and St. Cloud, but I liked that Augsburg was closer to home and it's a smaller school," she said. Having grown up just outside of the cities, Shelby was excited to spend more time in the Twin Cities. 
The StepUP Program supports students in recovery who are pursuing their undergraduate and graduate degrees. This hallmark program began 25 years ago at Augsburg and is one of the nation's first and premiere collegiate recovery-based programs in the United States. This year, there are 42 students who are currently enrolled in the program with 29 living on campus in a substance-free residence hall.
Shelby is a sophomore pursuing a degree in social work. "I'm also looking into psychology," she shared. "I'd like to work with younger kids who are struggling with substance abuse issues, so getting my LADC [Licensed Alcohol and Drug Counselor] is a goal of mine and I can really do that with either major."
When it comes to staying focused on schoolwork and sobriety, StepUP has been a big help to Shelby. "Being in StepUP has made it easier to focus on school because I don't have to worry about coming home and dealing with being around substances. I know that if I have a hard day in class, I can come back and be surrounded by other sober people," Shelby said, who has developed close friendships with other StepUP students. "We like to just hang out in our communal living room and talk or go out to eat together, we also have a game night each week which is fun!"
In addition to the academic and community support, Shelby shared other helpful resources she has received and service opportunities she has had. "I remember going around to different high schools and talking to students about what it's like being a young person in recovery," she recalled. "These opportunities have been really helpful for me and pushed me outside of my comfort zone." 
This year, Shelby is one of four recipients of the Doran Family Scholarship. "I'm so grateful for this scholarship," Shelby said. "I was worried about how I was going to pay for last semester and this scholarship made my education possible. Not having to stress about tuition has been so helpful."
Philanthropic efforts are critical to the success of StepUP. In fact, during Augsburg's historical Great Returns: We're All In campaign, more than $10 million has been raised toward StepUP's endowment. In May, StepUP will be celebrating the program's 25-year anniversary during its gala on May 13 at the Radisson Blu-Mall of America. This event aims to recognize the accomplishments of the students, staff, and alumni of the program and secure support for the future. "I went to the 2022 StepUP Gala for the first time last year, and it was a really beautiful experience," Shelby reflected. "It's really nice that donors are able to see what comes out of their donations. They are supporting us in more ways than they know."
Purchase tickets for the StepUP Gala by April 14. To learn more about the StepUP program, visit our website.