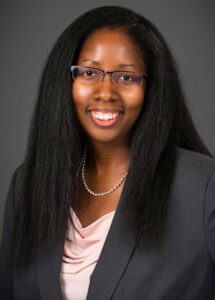 Dr. Keneeshia Williams, MD '03 knows that when a student encounters a bumpy college ride full of twists and turns and more downs than ups, helping hands are crucial. That is why she is donating $25,000 to support the Office of Undergraduate Research and Graduate Opportunity (URGO) and aid for STEM students.
Now a critical care surgeon at Wellstar Trauma Acute Care Surgery in Marietta, Georgia, Williams has impressive credentials, not only as a trauma surgeon but also as a director of medical student education and an activist for violence prevention. But her path was not always clear or easy.
Growing up in Chicago, Williams was 14 when she witnessed the gunshot murder of a neighbor and determined that her brother, then in prison, was probably safer than she was. A student at Kenwood Academy on the south side, she was plagued by nightmares, depression, and anger. She needed a change and found a sympathetic ear in the Augsburg recruiter who had stayed in touch since her sophomore year.
"When they put me in touch with the basketball coach, I thought it would be a nice possibility for me. I liked playing basketball, and I really did not want to stay in Illinois at all," she says. She was already familiar with the Twin Cities, having visited with her high school choir.
But academic goals? She wasn't sure. She had enjoyed being part of a citywide creative writing program so thought English and/or history might work. "Pediatric surgeon" was the goal she'd noted in her high school yearbook, in light of a friend who'd had open heart surgery, so she put "premed" on her application but thought it unrealistic. Her parents had college degrees in theater arts, but her father's vocation as a hotel bellman and her mother's as a model turned hairdresser promised limited means.
Augsburg offered her a chemistry scholarship. "I loved school, but chemistry was my least favorite subject," Williams recalls. She accepted anyway.
"Sometimes it is all about confidence," she adds. "If you ever needed help, you could go find a professor. There were only three of us in our analytical chemistry class, and the quality was superb. Professor (emerita) Arlin Gyberg even made me like chemistry after all those years."
Biology proved a better fit, however, and her summer research program studying the coral reef aquarium with associate professor Bill Capman proved pivotal.
"It pushed me more toward medicine. I couldn't imagine a career in research," though the experience became key in later medical school interviews, she pointed out, and definitely "made a difference." Capman's enthusiasm for his subject matter was infectious, and she loved how he taught and encouraged her to play with ideas, to explore and make them her own.
Capman was only one example of the support Williams discovered in Augsburg friends and faculty. She cites the contributions of now URGO director and former McNair Scholars director Dixie Shafer as well as English professor emerita Cass Dalglish, whose kindness and special attention helped Williams not only improve her writing but also tackle mental health challenges. The campus was much less diverse then, and she often felt isolated. In retrospect, however, she recognizes the positive aspects of such a defining period in her life.
"Something about it makes me want others to experience it," she says. When her first medical school entrance scores fell short and she could not afford to test again, a benefactor stepped in to pay. She hopes her gift will encourage STEM students and ensure that their essential needs are met.
Williams did eventually return home, dedicated to preventing the violence she'd witnessed and treating its victims. She earned her MD at University of Illinois College of Medicine in Peoria, intending to specialize in pediatrics or family medicine until a surgery rotation sparked her passion. After her general surgery residency at Mount Sinai Hospital, she pursued trauma and burn research training at Loyola University Medical Center and a surgery critical care fellowship at Banner-University Medical Center in Tucson before spending five years with the Emory University Department of Surgery in Atlanta.
As keynote speaker at the Agre Symposium, Williams returned again this year to Augsburg, where she enjoys sharing her wisdom and experience with future students. With her help, they, too, will be able to flourish in their chosen careers.