Dr. TJ Bramwell '03, a biology major, has native roots in Tomah, WI, but when he chose to attend Augsburg, he was not unfamiliar with the area. Bramwell's father, Thomas D. Bramwell '78, also graduated from Augsburg.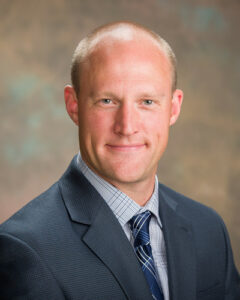 He recalled his parents and grandparents watching him play running back for the Auggie football team throughout his four years of college.
"Part of my interest in joining the football team was that it was right after Augsburg won the conference title," Dr. Bramwell said. "That excited me, as well as the academics."
His interest in science, specifically biology, emerged during middle school, developing further in high school, and culminated with his time in the classroom and on the football field at Augsburg.
"Being on the football team and seeing people get hurt, treated, and being able to come back and play again helped me realize that I wanted to be a doctor," Dr. Bramwell said. "It helped me identify my ultimate goal of being an orthopedic surgeon and helping people."
He went on to do a few years of research at the Hennepin County Medical Center before getting accepted to medical school at Des Moines University and eventually completing a five-year orthopedic residency at Ohio University/Doctors Hospital, a journey that took nearly 15 years.
"A lot of what shaped my journey at Augsburg is the relationships I formed with my professors, specifically in the biology department," Dr. Bramwell said. "They helped me navigate the waters of constructing a resume and getting into summer research programs, things that are so important and at the heart of URGO."
Twenty years ago, when Dr. Bramwell attended Augsburg, URGO (Office of Undergraduate Research and Graduate Opportunity) did not exist. Now, URGO connects students with both new and existing research and scholarship opportunities on campus, across the U.S., and internationally. 
Dr. Bramwell said he gives to URGO because he wants to ensure students have the support they need to succeed, whether that's MCAT (Medical College Admission Test) practice tests, study materials, or other contributions that will aid the next generation of medical professionals, and you can too.