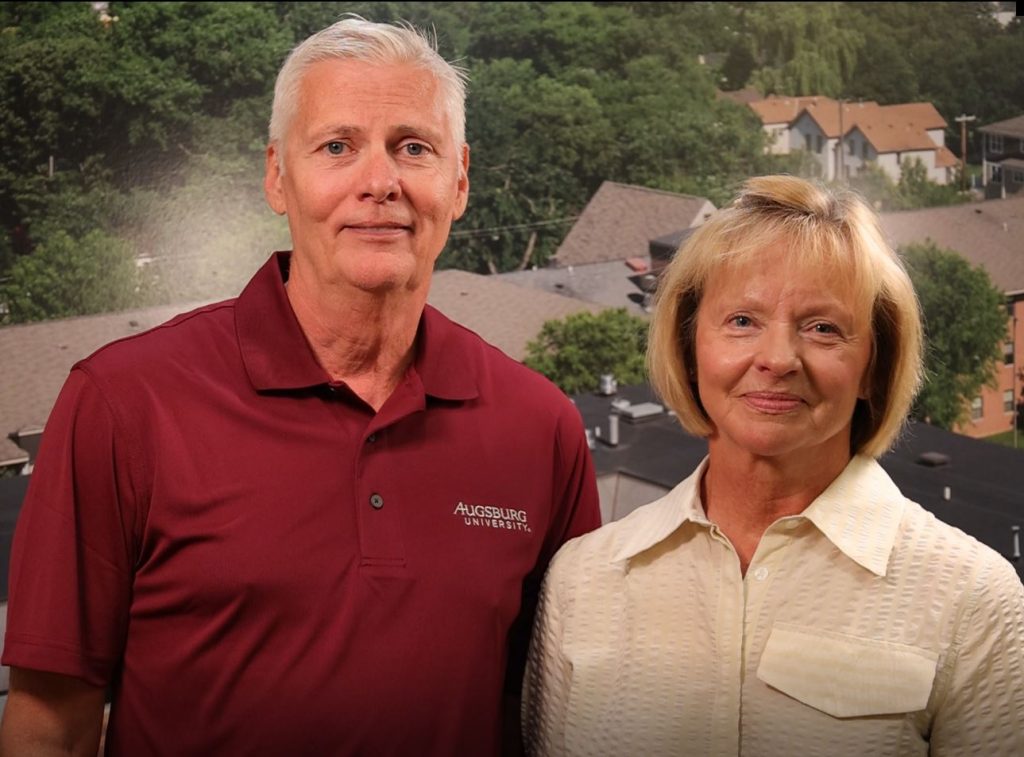 Bev (Ranum) Meyer '78, who graduated with a degree in mathematics, paused to collect her thoughts before recounting memories of when the Augsburg Choir practiced in the Old Main Chapel, back when fans took the bus to Parade Stadium to watch Auggie football games, and students lived in the big old houses on campus before they were all torn down. 
"When I think of our era at Augsburg, I think about how much this University has evolved since then," said Bev. "And even though many aspects have changed, much of what we appreciated about Augsburg still remains."
Dennis Meyer '78 majored in communications and social work and is the co-chair of the Alumni Class Challenge. He and Bev met each other at Augsburg during their undergraduate studies, and both of them experienced the benefits of grants, scholarships, and the power of generosity. 
Dennis and Bev began giving back to Augsburg in 1978 when they signed up for the Senior Challenge, which encouraged them to give a small gift every year. They became even more invested in giving when their son chose to attend Augsburg. 
"There are many reasons people give," Dennis said. "For us, we want to pay back a place that provided us with many opportunities, experiences, and lifelong friendships."
They mentioned the importance of paying it forward and their hope that others will have a chance to experience Augsburg for themselves and create their own memories. 
The Meyers continued to ensure their dream became a reality by contributing to the Jeroy and Lorraine Carlson Atrium Lounge, a designated space in the Hagfors Center where the Augsburg community can gather, foster relationships, and build community. They also gave contributions to the Beverly Durkee Mathematics Scholarship. 
Dennis noted there are multiple ways to give such as endowments, the Augsburg Fund, professorships, and numerous other programs.
Currently, Dennis and Wayne Jorgenson '71 are on the Board of Regents, and co-chairs of the Alumni Class Challenge, which is a part of Augsburg University's Great Returns Campaign. The Almni Class Challenge kicks off at the All-School Reunion on Friday, Oct. 7, 2022, and will last for three months. 
The goal of the larger campaign is to raise $125 million. The Alumni Class Challenge is a competition to see which class will have the highest participation rate with the winning class receiving bragging rights. A gift of any amount is appreciated and counts toward that class' total.