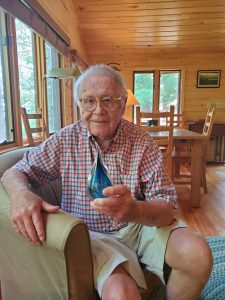 Mark Raabe started at Augsburg in 1949 with the idea of becoming a teacher.
"I loved school, but I didn't have a clear direction. If you ask me today what I want to be when I grow up, I still don't know," Mark says with a chuckle.
He spent two years at Augsburg and played second base on the baseball team. However, his interests shifted at the end of sophomore year and he transferred to the University of Minnesota, where he received his undergraduate and graduate law degrees. Yet after spending only two years at Augsburg, one influence always stuck with him: Coach Edor Nelson.
When Mark started college, WWII had just ended. Edor Nelson '38 was a war hero and recent addition to the Augsburg faculty.
"He had been a part of Patton's Army, a German prisoner, and he escaped. To me he was larger than life in every way and such a good man."
Mark became a lawyer with a career in Washington D.C. He kept an eye on Augsburg from afar with a focus on Coach Nelson's activities. In 2001, Mark and his wife Jean attended an A-Club luncheon celebrating the naming of Augsburg's athletic field in Coach Nelson's honor. Mark had only visited Coach Nelson once since his time as a student, but, as Mark remembers, "When we were still 30 feet away, our eyes met, and he said, 'Here comes my second baseman!' The fact that he would remember, 50 years later, who I was and what position I played for only two years is just amazing. What it says to me is that he cared about his kids. Edor is legendary in that regard."
In 2013, the Raabes made a significant gift to the Center for Science, Business, and Religion campaign, naming a faculty office after Coach Nelson. Then in 2015, they pledged a future estate gift to the CSBR campaign, naming the science lab in Coach Nelson's honor.
"Coach Nelson had a profound impact on me."
Two of Mark's nieces would eventually graduate from Augsburg and both spoke highly of the university to him. Ann Morrice Allenson '92, who now has a family law practice in Minneapolis, and Norah Anderson '21, who just graduated summa cum laude.
"Norah kept me up to date on Augsburg's happenings. She credits me with being important in her decision to go to Augsburg. Now she's on her way to law school."
At the end of 2020, Mark again connected with Augsburg with hopes of supporting students through an endowed scholarship.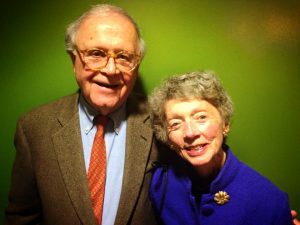 "I have always thought Augsburg served its community well. Now in recent years, especially under President Frame and President Pribbenow, that definition of community has expanded far beyond its original meaning to include the world. I love the university's openness and its focus on diversity and inclusion, and its appeal to students with economic needs. It projects a caring, not unlike what I felt from Coach Nelson. I am excited about giving back to Augsburg as it prepares its remarkable students to help make our world a better place."
Mark established the Mark '53 and Jean Raabe Endowed Scholarship in 2020-2021 to support students who demonstrate financial need and academic achievement.