When Wayne Kendrick '68, a religion and math major, enrolled at Augsburg as a junior, he was in the process of change.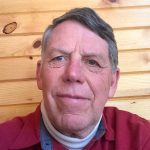 He spent years working towards becoming an actuary, but not long after his adult baptism, Kendrick would hear life calling him in a different direction. 
That's when he started searching for Lutheran schools to attend. Kendrick said he wanted one with a different atmosphere than that which he had been accustomed to, mostly growing up in western South Dakota. 
Before even visiting Augsburg, Kendrick was drawn to the idea of a Lutheran college located in an area with vast cultural diversity and educational opportunities.
"I had a saying that I went by when I was in college," Kendrick said. "Education shouldn't get in the way of your life's education."
Kendrick recounted doing volunteer night patrols with the Way Center on the troubled streets of North Minneapolis and participating in a march for fair housing in Milwaukee with his college roommate and Father Groppi. He attributed these memories to an enriched college and life experience. 
"Although I only attended Augsburg for two years, it had a real profound impact on my life," Kendrick said with a look of fondness and appreciation. 
After graduating, his giving journey began when he purchased a life insurance policy with Augsburg as the beneficiary. Kendrick would go on to enroll at Luther Seminary in Saint Paul and would later become a pastor. 
Kendrick continues to give back to the community that has influenced his life so immensely with multiple donations to the StepUp® program and an annual gift to the Augsburg Fund. 
"I know without our [donor's] gifts, large or small, Augsburg simply wouldn't exist," Kendrick said. "It's not just enough to be appreciative, one must also make sure that others can enjoy the benefits that we, ourselves, have enjoyed."
Join Kendrick and ensure students have an opportunity to receive the educational and life experiences they deserve by making your donation today! 
Any gift made to any program will automatically count towards your class' total for the Alumni Class Challenge!