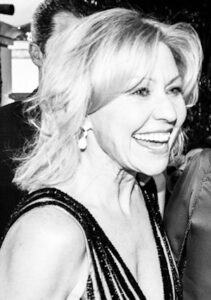 Sheryl Shark's '82 affection for Augsburg is stronger than ever after four decades, as she recently demonstrated by designating a $1 million estate plan gift to her alma mater as part of its Great Returns: We're All In campaign. The musician and actress has long been committed to giving back, and the establishment of the new Schwartz School of the Arts has only fueled that passion. Her previously unrestricted gift will go there instead, ready to help the next generation of artists pursue their dreams.
"I'm just so excited for it. It also gives me a place to direct my gift that I didn't have previously," says Shark, who graduated with a music degree in 1982 and fully understands that "people in the arts are always in need."
Shark's love affair with Augsburg began in the '70s when she was still a student at Dassel-Cokato High School. Already a music and dance class veteran in her teens, she participated in the annual Minnesota Music Teachers Association contest, held on campus. She recalls playing piano in the old music building, then rumored to be haunted. That is where she met the late Professor Emeritus James D. Johnson, who was not only her contest advisor but also an example of the music guidance Augsburg could provide. She liked his comments and support so much that her college choice became obvious.
"Augsburg was the only place I applied," she said.
As a freshman in 1978, Shark attended classes in the old music building for only about a month before moving to the new one, as the ghosts from the old place began making peace with the football field that would replace it. By the end of her sophomore year, Shark was not only happily taking classes but also beginning to register the benefits of a liberal arts education.
"All of a sudden everything was connected—history to biology to music to physics, even the religion courses—they all started tying together. I was not pushed or prodded. I felt like the universe was putting everything together for me. It was the most astounding experience," she says. "Those four years at Augsburg were the best years of my life."
Not that more recent years have been less than great, she is quick to point out. She began playing piano and teaching in Montana, then spent most of her career in southern California, where she discovered that performing for nonprofit fundraisers in famous venues such as the Peninsula Beverly Hills hotel was the most enjoyable as well as financially advantageous way to use her talents. She had always intended to return home to Minnesota, however, and recently moved to Wayzata, where she enjoys the walkability, the restaurants and coffee shops, and the chance to take acting classes and participate in the many artistic events available here.
Shark visited campus in April, noting that it seemed twice as large as it used to be. It has moved west, and the old, rundown houses have been replaced by beautiful new buildings, she says. Soon the Schwartz School of the Arts will house a dozen undergraduate majors in the performing and visual arts, as well as a master's program in music therapy.
 "I used to go to Broadway and look at the playbill, which always included at least one actor from a famous liberal arts college on the East Coast. 'I should have gone there,' I used to think," she says. "Now I'm thrilled to know that Augsburg is going to have that kind of program. I hope it brings in another group of students who don't have to look at Julliard, who can be based in the Midwest. So many wonderful places are here—the Guthrie, the Chanhassen, Mixed Blood, etc.—and for the size of our cities, that's rare."
Learn more about Augsburg's Great Returns campaign.