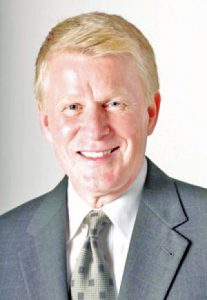 The foundation for the career success and generosity of John Schwartz '67 was laid early, in Lester Prairie, then a town of 1,000, 50 miles west of the Twin Cities. There, long before he pledged a substantial estate gift to fund Augsburg's choral music, he grew up in a musical family, singing and playing piano, pipe organ, and percussion. There, to keep school activities such as student government, sports, band, and theater alive, everyone had to participate. And it was there that his parents seeded his commitment to education, hard work, mutual respect, and philanthropy.
"My father valued education because he never had it," Schwartz says. His father, Norman, was in 8th grade when his mother died in childbirth; he quit school to help raise four younger siblings. But he was ambitious and built a life as a farm implement dealer, bulk propane distributor, inventor, and manufacturer. Buyers for his patented tip-down truck bed came from as far away as Oregon, Schwartz discovered years later while working there.
"When I was in high school, he told me that I should get a business degree because it prepares you for many things," recalls Schwartz. He remembers sitting at the kitchen table one morning while his mother read a "hot jobs" article in the newspaper. "She told me that hospital administration was one of them. So when I took my ACT test and had to put down my future goal, I wrote 'hospital administrator.'" The ACT supervisor saw it and scoffed aloud; formally educated hospital administrators were rare then, and what kind of young person would choose such a career anyway? A determined one, apparently.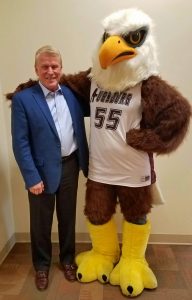 Augsburg College was for Schwartz a natural fit: Lutheran, affordable, well-respected, and his best friend's first choice. Though the diverse neighborhood initially made him nervous—"it certainly wasn't Lester Prairie!"—Schwartz learned to love the downtown proximity, riverfront gatherings, and especially singing baritone in the Augsburg choir. The five weeks they spent touring Norway, Denmark, and Germany during his sophomore year were transformative.
"That cemented my joy of singing. The beauty of the sound, the audiences leaping in joy to standing ovations, singing for King Olaf—it was a world apart," he says.
But accounting classes? Not so much fun. Working alone at a desk was "so dull" that Schwartz questioned his major until a choir mate helped him land a part-time job transporting X-ray patients at Deaconess Hospital. There he got to spend an hour with the administrator, who cited the benefits of a professional environment and good compensation. "That sealed the deal for me. I need to be in and around people."
After earning a master's in hospital administration from the University of Minnesota, Schwartz spent 20 years at St. Luke's Medical Center and then Aurora Health Care, Milwaukee. He was also president at Advocate Trinity Hospital in Chicago for 14 years and then served in other parts of the country before retiring in 2012. Some years were too demanding for his avocation, but he joined choirs when he could. Today he still sings with the esteemed 125-member Apollo Chorus of Chicago, which performs classical choral programs but has also sung with the Chicago Symphony Orchestra and the Oprah Winfrey Show and backed Aretha Franklin, Josh Groban, Patti LaBelle, and many others.
"The hardest thing about leaving Augsburg was no longer being able to sing in the choir. It was a heartbreaking thing to realize," says Schwartz, citing the discipline and inspiration he learned from renowned Augsburg choral conductor and composer Leland Sateren '35, who died in 2007 at age 94. "You aspired to give all you had to a piece of music, to understand the lyrics and let your emotions take you beyond the technical expertise. He taught us how to harness the talent of others to create an impact. Although you were 65 individuals, you sang as one."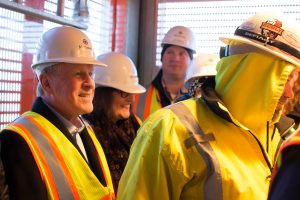 Schwartz is a model for how liberal arts can shape a career. As a hospital administrator, he was charged with managing many disparate departments, each led by its own expert and contributing its own unique skills. Orthopedics, surgery, and obstetrics were not unlike sopranos, altos, and tenors. "You have all these individual efforts, yet you have to lead the organization in a consistent fashion. It's like a piece of music," he says. "As the leader, you have to have a vision. You set the tempo and pace. And you say, 'This is the song we are going to sing, and we have to be in sync.'"
Thanks to his significant contribution, future Augsburg students will have the opportunity to sing as one, with joy and purpose.
— Cathy Madison