"I guess you could say that if it weren't for Augsburg, I wouldn't be here," said Joe (Orville C.) Hognander, Jr. with a chuckle. The retired naval officer and private investor has deep Augsburg roots: his grandfather, Reverend Lars R. Lund, graduated from Augsburg Seminary in 1912 and his parents, Gertrude Lund and Orville Hognander, met during their Augsburg Class of 1936 freshman registration.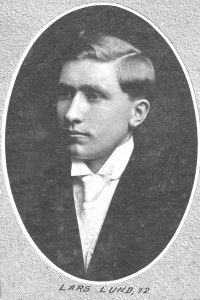 Gertrude and Orville shared a lifelong love of music. Gertrude began playing the piano when she was five and subsequently played the organ in her father's church while still in her teens. Orville, who also grew up surrounded by church music, supported his dad's ministry by serving as announcer for the family's weekly WDGY radio program of music and the spoken word. Joe recalls hearing classical music regularly in their home, especially from their complete collection of New York Philharmonic Orchestra's 78 RPM records in the pre-FM radio days.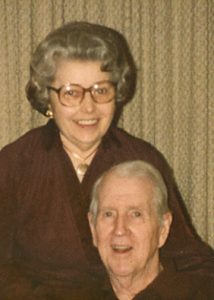 While students at Augsburg, both Gertrude and Orville were deeply involved in the newly formed choir, Gertrude as piano accompanist and Orville as the announcer/business manager. Most notably in 1935, he created and produced the "Hour Melodious," a weekly radio program on WCCO featuring the 50-member choir. He also planned and arranged the choir's first tour, which covered 20 concerts and more than 2,000 miles.
After Augsburg, the Hognanders served their communities in many ways. Gertrude became a teacher and music education supervisor in Escanaba, Michigan, before marrying Orville and moving to Minneapolis in the early 1940's. She became organist and director of several church choirs and joined, among other groups, AAUW, the St. Louis Park Woman's Cub, and the United Nations Association of Minnesota, eventually becoming president of those associations. In 1973, she received Augsburg's Distinguished Alumni Award.
Orville began work for the Tennant Company as a salesman in the Detroit area, advancing rapidly to become vice president at age 31 and member of the Board of Directors eight years later. At the same time, he rose through the ranks of the National Sales Executives, becoming vice chairman in the early 1950's. Sadly, at age 43 he suffered a major stroke that paralyzed his right side and required him to re-learn how to walk, talk, and write. Through great determination, he succeeded and was able to resume his responsibilities at Tennant, where he negotiated foreign business agreements that opened markets in Europe and Japan.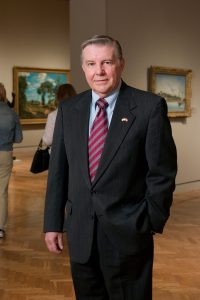 Joe recalls how his father gave great thought to where his money should go when he was no longer here. It was a difficult decision but in the end he chose to support those organizations and causes that had been of greatest importance to him during his life.
After he died in 1997, his will provided money to Augsburg College to create the Orville and Gertrude Hognander Endowment Fund, which specifies full tuition funding for an outstanding junior and senior in the Music Department. The department faculty selects the recipient based on past performance during their freshman and sophomore years at Augsburg or another college as well as their potential for future distinction.
"The scholarship's goal is to provide a strong incentive to encourage and reward excellence for those in the music field," noted Joe. "I have been very impressed with each one of the past winners."