Great Returns: We're All In is a comprehensive fundraising campaign to rally support and ensure a brighter future for Augsburg University. We are committed to helping Auggies define stronger paths for themselves and their community.
WHAT HAPPENS WHEN WE'RE ALL IN FOR AUGSBURG?
Scholarships created by people like you help more Auggies including first-generation students, complete a college education.

Endowed professorships provide years of dedicated excellence in teaching and instill confidence, curiosity, and practical skills in students with raw potential.

More students get to experience the thrill of hands-on research and the adventure of studying abroad.

Students graduate with less debt and are more prepared to launch into their careers, making a difference by pursuing their calling.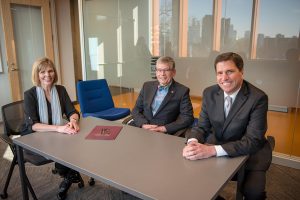 Meet Campaign Chair Paul Mueller
Paul Mueller '84, M.D., serves as Great Returns Campaign Chair. Read Paul's updates on our Great Returns blog.
"The philanthropy of the Augsburg community changes lives in powerful ways. Whether you make a gift to the Augsburg fund, create an endowed scholarship, fund a capital project, or include Augsburg in your estate plans, your gift is included in this campaign. Together, We're All In!" – Paul S. Mueller '84, Regent Emeritus
Read about some of the Auggies who have helped make this the largest campaign in Augsburg's history on our Gift Announcements blog.