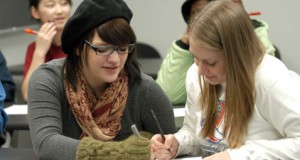 Augsburg College warmly welcomes applicants from our neighbors to the north!
Canadian applicants must complete the same application requirements as other international students.  If you reside in Canada, U.S. Immigration regulations require you to have an I-20 Form in order to be a student in the United States. However, you do not need a visa to study in the United States.
Once you have been accepted and paid your enrollment deposit, Augsburg College will mail you a SEVIS I-20 Form.
You will be required to present the SEVIS I-20 to the U.S. Border Patrol officer before crossing the border. Upon entry you will be given an I-94 Admission/Departure card. The I-94 card shows your legal status in the U.S. Generally, there are no additional fees, however if you are coming by land the I-94 card will cost $6.00.
Once you arrive on campus for International Student Orientation, International Student and Scholar Services  staff will photocopy your immigration documents and activate your immigration record.  Please remember to keep both the original SEVIS I-20 form and the I-94 with you at all times.