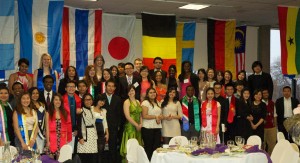 The Office of International Student & Scholar Services provides an International Student Orientation to welcome newly admitted
international students.
It is required by immigration law that first-year F-1 students, J-1 students and scholars must attend the International Student Orientation. Augsburg Intentional Student Orientation provides essential information to assist new international students and scholars make a successful cultural and academic transition into their new settings.
International Student Orientation is held prior to the start of the fall and spring semesters. Activities and sessions  take place over 3 days, typically the Wednesday and Friday before school starts for each semester.
Activities and topics you can expect during Orientation include:
Legal document check
Entry level assessment for F-1 students: Writing, Michigan Assessment and Math placement exams
Welcome from International Student Organization (ISO) board members
Health Insurance
Overview of Augnet Account
F-1 and J-1 regulations
Tour of Lindell library
Conversation with Augsburg's Center for Wellness & Counseling (CWC)
Campus and city street security
Issues and policies related to living on campus
Overview of Augsburg policies and activities
Intercultural Communication and adjustment
Minneapolis Plunge – Light-rail adventure
Welcome dinner in homes of Augsburg staff or faculty
Opportunities to build community with fellow students!
Fall 2020 New International Student Orientation
You will meet all new enrolled international students; and learn about Augsburg, immigration, life in Minneapolis, and more!  Please remember that Augsburg International Student Orientation is mandatory. 
When: Wednesday, August 26 – Friday, August 28. For students planning to live on campus, move-in is scheduled on Sunday, August 23 and Monday, August 24.