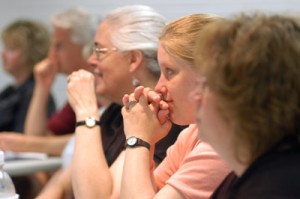 Students must take 11 courses to complete the MA Leadership program. See current tuition cost per credit.
Financial assistance is available to degree-seeking students enrolled full time in the MAL program. Two full-credit courses per term is considered full time.
You may be eligible for financial aid including state and federal loans or grants. If your employer provides tuition assistance, you can participate in Augsburg's employer tuition reimbursement program.
Transfer credit
One way to reduce costs is to transfer related graduate courses taken at another institution. Students may petition the MAL program director for transfer credit to apply to program requirements. Transfer credits will be evaluated on an individual basis. Students must provide appropriate documentation, including but not limited to an official transcript, course description, and syllabus. In order to be considered for transfer, a course must be from a regionally-accredited college or university institution and graded 3.0/B or better. Courses must be graduate level, and course content must be comparable to program requirements and content to the MAL in Leadership. Typically, no more than six graduate level semester credits can be applied to the program.
We also offer several scholarships and tuition discounts which may be available to you, including the following:
Alumni Discount
Students who received  their degree from Augsburg College and return to Augsburg as either an adult undergraduate or graduate student are eligible to receive a grant. Please make sure your addmissions counselor is aware that you are an alumni. The grant amount for the 2014-2015 summer term and for the 2015-2016 academic year for graduate programs is $80.00 per credit. This is the only grant that can be used in conjunction with those listed below starting fall term 2015. For more information, visit Payment Plans and Discounts.
American Indian Scholarships
American Indian students who meet federal, state, or tribal requirements may apply for special scholarships. For more information, please contact Augsburg's American Indian Student Services Program director at 612-330-1144.
AmeriCorps/Lutheran Volunteer Corps Discount
Augsburg offers a tuition grant for students who have served with AmeriCorps at least half-time for one year. For more information, visit Payment Plans and Discounts.
Military Tuition Grant
Individuals who are serving or have served in the military may qualify for a tuition grant. For more information, visit the Payment Plans and Discounts.
Augsburg Partnership Grant
Individuals who are employed by corporations/institutions that are participating in the Augsburg Partnership Grant program and are newly enrolling in specified Augsburg degree programs may be eligible for a tuition discount in the form of a grant. This discount may also apply to students who have successfully completed a Leadership Course from participating Chambers of Commerce. For more information, visit Payment Plans and Discounts.
Family Discount
Parents or spouses of current Augsburg students or alumni who take courses as either an Adult Undergraduate or Graduate student are eligible to receive a grant. Please make sure your admissions counselor is aware of your family connection to Augsburg.
For more information on financial aid or tuition discount programs, contact the Enrollment Center.