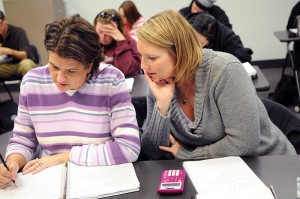 Tuition 2014-2015
Fall, Spring, and Summer
$457.50 per credit
$1,830.00 per 4 credit course
Financial Aid
For those who qualify, there are financial aid resources available to assist students with meeting the cost of college, including loans and grants. The Student Financial Services department works individually with students to help them understand financial options and payment plans. No matter what stage a student is in, we are here to help.
Scholarships
In addition to federal and state loans and grants, students may be eligible for scholarships. Available scholarships are listed below.
Military Tuition Grant
Augsburg offers a tuition discount of $46 per credit (no max) to personnel currently serving full- or part-time in any branch of the United States armed forces or veterans of any branch. For more detailed information, including additional VA benefit programs, visit the Military Support website. (The tuition grant is available only to students in the adult undergraduate program.)
Employer Tuition Reimbursement
Many companies support their employees' education by providing tuition reimbursement for approved courses. Find out more on the Student Financial Services page.
Phi Theta Kappa (PTK)
Augsburg recognizes academically qualified transfer students from community colleges who are members of Phi Theta Kappa. (A tuition discount of $75 per credit, max of $600 per semester.)
Partnership Grant
The Augsburg Partnership Grant applies to new enrolling students only and allows employees of partner institutions to receive a tuition discount in the form of a grant. Application fees of $35 are also waived. If a student enrolls in an Employer Tuition Reimbursement Payment Plan, the $30 processing fee is also waived.
American Indian Scholarships
American Indian students who meet federal, state, or tribal requirements may apply for special scholarships. Contact Augsburg's American Indian Student Services program for more information.
PRIME Scholarship
Students who receive a scholarship from their Lutheran congregation may receive a match in Augsburg scholarship dollars up to a maximum of $750 per year ($375 per term). This application and payment from the sponsoring organization should be submitted to the Enrollment Center. Please make payment payable to Augsburg College. Download an application.
AmeriCorps Grant
AmeriCorps volunteers who have served at least half time for one year, who are qualified for admission to Augsburg College, and who enroll within five years of the completion of their service may receive an AmeriCorps grant. Please visit the Student Financial Services page for more information and to download the application.